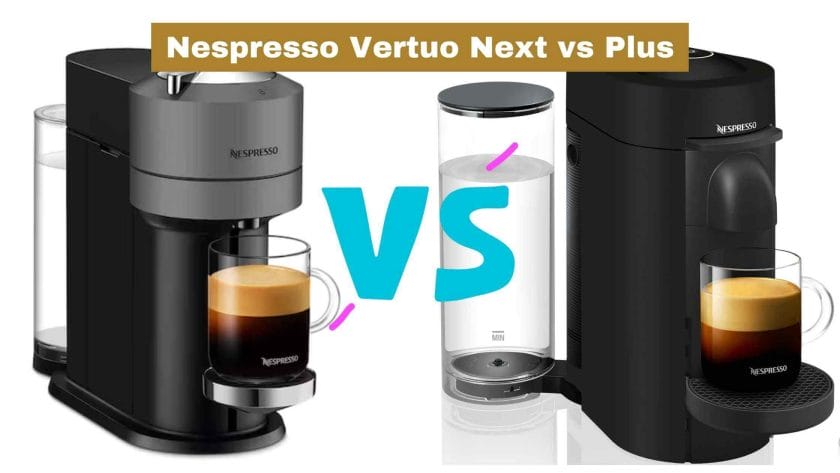 According to a 2022 study, the majority of American consumers drink some type of coffee beverage every day. Espresso is among the types of coffee people drink daily, and having an espresso machine in the home is becoming the preference of many espresso drinkers because it saves time and money.
Nespresso is favored in this category because they produce some of the best user-friendly capsule machines. Of their best capsule machines are the Vertuo Next and the Vertuo Plus.
These machines look similar but have various features that set them apart. But as with any Nespresso machine, you will get a combination of versatility, excellent flavor, and easy usability with either. Which one is better?
Nespresso Vertuo Next vs Plus Key Differences
When comparing the Nespresso Vertuo Next and the Nespresso Vertuo Plus, there are several key differences to consider. These differences can greatly impact your coffee brewing experience and help you decide which machine is the perfect fit for your needs.
Design
As previously mentioned, the Vertuo Next and Vertuo Plus look similar, but their design is not. The Plus came out before the Next, so it has a less modern look than the Next and is a little bit bulkier.
Since the Vertuo Next has a slimmer design, it needs little counter space and will fit in small spaces that the Vertuo Plus may not.
The water tanks have a difference of a few ounces. The Plus has a 40 oz tank, and the Next has a 37 oz tank.
You may be wondering why the newer model has a smaller tank, and there is an answer to that. It is because the Next has a bigger brew head, which takes up the space a larger water tank would use.
The large brew head in the Next makes it compatible with off-brand capsules, which makes it a little more versatile than the Plus.
The height of each Nespresso machine is the same (16.8 inches), and they have a slight weight difference. The Plus is 9.7 lbs, and the Next is 8.8 lbs.
Both machines are made of durable plastic, but the Vertuo Next is specifically made of recycled plastic, making it better for the environment. Both machines have a simple set-up and an adjustable drip tray that supports different cup sizes.
Lid Type
Neither machine has a complicated lid functionality, but the Vertuo Plus has the convenient feature of a motorized lid that opens with a slight push and closes by tapping the lever.
On the flip side, the Vertuo Next has a spring-loaded lid. It requires you to manually unlock it before it springs open. Once the pod is loaded, you push it down and lock it back into place.
Surprisingly, the newer model didn't come with a motorized lid since it is the most convenient option. The spring-loaded lid is a little more work for you, but manageable and not that big of a deal when it comes down to it.
Water Tank Convenience
The Vertuo Plus has a water tank that pushes or swivels to the side for refills but is not removable, and its design takes up more counter space as a result.
The water tank on the Vertuo Next sits on the back of the machine and can be removed for refills. Its placement allows for the design of the Next to be more compact than the Plus.
A removable water tank is typically easier to deal with because you don't have to bring the water source to the machine.
Capsule Storage
Both machines have a storage compartment for used capsules, meaning you don't have to remove a hot capsule immediately after use. But they differ in the number of capsules that they hold.
The Nespresso Next capsule container can hold up to 8 capsules, and the Plus holds up to 10.
Sound
Nespresso machines have technology that spins the pod thousands of times per minute to create a smooth, delicious espresso.
Some complain that this process, performed using centrifusion technology, keeps the espresso from developing a truly authentic taste.
This process inevitably makes noise. However, the Plus is quieter than the Next, which is another surprising comparison, since the Next is the newer model.
Technological Features
The Vertuo Next is superior to the Plus when it involves technological features.
It comes with Bluetooth and WiFi connectivity that syncs to the Nespresso app allowing you access to your machine's performance stats and upgrades.
It's exciting for the tech-savvy coffee lover but is more of a luxury than a necessity for the machine's operation.
Since the Vertuo Plus does not come with these features, it's an excellent option for the espresso drinker who doesn't wish to have the extra fuss.
| Specifications | Nespresso Vertuo Next | Nespresso Vertuo Plus |
| --- | --- | --- |
| Dimensions | 5.59"D x 16.88"W x 12.79"H | 5.59"D x 16.88"W x 12.79"H |
| Materials | Recycled Plastic | Plastic |
| Water Tank Capacity | 37 oz | 40 oz |
| Capsule Storage | 8 | 10 |
| Lid Type | Spring Lid With Lock | Motorized Lid |
| Technological Features | Bluetooth and WiFi Connectability Through App | None |
| Cup Sizes | Single, Double, 4 oz, 8 oz | Single, Double, 4 oz, 8 oz |
Pros and Cons of Espresso Virtuo Next vs Plus
When it comes to weighing the pros and cons of the Nespresso Vertuo Next and the Nespresso Vertuo Plus, there are several factors to consider. By diving deeper into the features and functionalities of these machines, you can make a well-informed decision based on your specific preferences and needs.
Nespresso Vertuo Next
The Vertuo Next has a modern, slim design that will work well in any home, even with little counter space.
It has a spring lid that needs to be locked once closed and unlocked before opening.
You can choose from four drink options – 2 for espresso and 2 for drip coffee.
You can keep track of its performance using an app on your phone with Bluetooth and WiFi connectivity.
This machine is simple to use and easy to clean, with virtually no mess. It holds up to 8 used capsules that can be discarded at any time.
It is made of recycled plastic material and a system that lasts.
Pros
4 drink sizes
Easy to use
Bluetooth and WiFi connectivity
Capsule storage
Cons
Milk frother not included
Coffee doesn't come out very hot
Nespresso Vertuo Plus
The Vertuo Plus is an older model Nespresso machine, but it includes plenty of features that make it an excellent machine.
It includes 4 drink-size options, like the Next, and a slightly larger capsule container.
Its water tank is larger than Next's but has a different design. Instead of being removable, it is a swivel water tank. It can swivel to the side of the machine for easy filling.
It is a one-touch brewing system and a motorized lid that opens with a slight tug and closes with a simple push of the lever. And no force is needed.
The Plus does not have Bluetooth or Wifi connectivity like the Next but works just as well.
Pros
4 drink size
Larger water tank than the Next
One-touch brewing
Motorized lid
Larger capsule container than the Next
Easy to use and clean
Cons
It is not compatible with any other brand of capsules.
Coffee does not come out very hot.
Nespresso Vertuo Next vs Plus Main Factors to Consider
When it comes to choosing between the Nespresso Vertuo Next and the Nespresso Vertuo Plus, there are several main factors that deserve careful consideration. By delving deeper into these factors, you can gain a comprehensive understanding of the unique qualities and features offered by each machine, ultimately helping you make an informed decision that aligns perfectly with your coffee preferences and lifestyle.
Personal Preferences
Take a look around your kitchen. Between the Vertuo Next and the Vertuo Plus, which style do you think will look best and fit on your counters?
The Next has a more modern design than the Plus, but they are both aesthetically great-looking machines.
Design isn't the only preference to consider. The water tank on each machine is different – one swivels, and the other detaches. Which convenience do you prefer?
If you want a machine that will take up less space, the Vertuo Next is the best option. The swivel water tank on the Plus takes up more space and needs to be in a position that accommodates it.
Types of Coffee Drinks
This one is simple because there is no consideration needed. The Vertuo Next and Vertuo Plus have options for single and double espresso, and 4 oz and 8 oz coffee.
Each machine brews quality coffee, but the type of coffee you use is limited in the Vertuo Plus.
Since the Vertuo Plus does not accommodate other brands of coffee pods, you are stuck strictly using Vertuo pods.
However, the Vertuo Next accommodates pods from other brands as well as reusable pods.
Level of Expertise Needed
Both machines are user-friendly and don't require much expertise to use. The most work you will have to do is the de-scaling process, which usually comes in the instructions of the machine.
Budget
Nespresso machines are very affordable. The Next and Plus machines have prices that are doable for most people. And you will often find them on sale.
The Vertuo Next costs $179 at full price, and the Vertuo Plus is $169. Since there is very little difference in the cost between the two machines, picking a budget-friendly option won't be much of an issue.
However, if one is on sale, take the offer and run with it. Who doesn't like a good deal?
Our Verdict
Our choice is the Nespresso Vertuo Plus. It is especially user-friendly due to the motorized lid that opens and closes with little effort.
It stores more used capsules than the Vertuo Next and has a larger water tank.
The biggest thing you will miss out on if you go with the Plus over the Next is the Bluetooth and WiFi connectivity. But not many people comment on it or rave about it.
It's helpful for the person that will actually use it, but not many people find it necessary.
Of course, if you have little counter space, the Next is the one to choose since it is more compact than the Plus.
The only downside of going with the Plus is the lack of capsule compatibility, which may be a deal breaker for some.
Regardless of your pick, Nespresso capsule machines are excellent options for new and seasoned espresso lovers.