Our website is reader-supported. If you buy through the links in this post, we may earn a commission.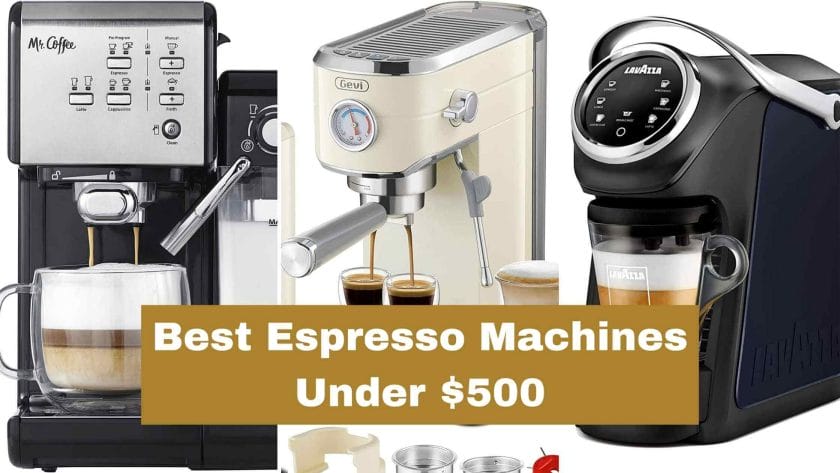 Quality is a priority when it comes to buying an espresso machine for home use because the quality of the machine dictates the quality of your espresso.
You may think a less expensive option means low quality and minimal durability, but you will be surprised at what you can find in espresso machines that are within your budget.
Having a budget doesn't mean you have to settle for anything less than the best. It just means you need to know where to look and what to look for. Save some time and check out the rest of this article for suggestions on the best espresso machines under $500.
| | | | |
| --- | --- | --- | --- |
| Best Fully Automatic | Gaggia Brera Super Automatic Espresso Machine | Super-automatic espresso machine with push-button controls, LED display, milk-frother, easy cleaning, adaptable grinder, and 1-year warranty. Great for versatile brewing, but has small reservoir and cup space. | See Product |
| Best Semi-Automatic | Gaggia Classic Pro Espresso Machine | Gaggia Classic Pro, a compact stainless steel espresso machine, features a commercial steam wand, portafilter with multiple baskets, quick heat-up, minimal noise, and a 3-switch control panel. | See Product |
| Best with Grinder | Gevi Professional Espresso Machine | Gevi espresso machine offers 20-bar pressure, crema-rich espresso, built-in pressure gauge, adjustable steam wand, hot water, and includes grinder, shot glasses, chambers, spoon, brush, tamper, and frothing jug. | See Product |
| Best with Frother | Calphalon Temp IQ Espresso Machine | 15-bar pump espresso machine with thermoblock heating, PID temperature control, dial interface, removable 2L reservoir, cup warmer, and frothing wand for perfect crema and taste. | See Product |
| Best Capsule | Lavazza Capsule Coffee Machine | Lavazza capsule coffee machine offers multi-use options, includes milk frother, 32-capsules, extra vessel, compact design, and standby mode for convenience. | See Product |
| Best Manual | Flair Espresso Maker Pro 2 | The Flair Espresso Maker is a fully-manual, high-quality, portable system with a stainless steel pressure gauge, plunger, screen, spout, and portafilter, making it perfect for trips and easy cleaning. | See Product |
Why Get Your Own Espresso Machine?
Consider how many times you have espresso in a day. A recent study reported that most respondents admit to drinking multiple cups of coffee at home each day.
Most espresso drinkers have at least two shots of espresso daily, if not more. Espresso is fuel for many people that drink it. It's a boost of energy that keeps them going when life gets busy – and it's delicious.
Since you're here, that is most likely the case for you, so wouldn't it be better to avoid having to make trip after trip to a coffee shop when you can get the same thing in the comfort of your home?
Espresso machines have come a long way since they first hit the market, and the innumerable options make choosing one difficult.
The list and buyers guide in this article will help you narrow your list enough to choose the best fit for your home.
15 Best Espresso Machines Under 500
1. Gaggia Brera Super Automatic Espresso Machine (Best Fully Automatic)
This super-automatic espresso machine has features that make it 100% worth the purchase. It has push-button controls and an illuminated LED display for easy use.
You can use the milk-frothing wand to make lattes or cappuccinos or use it as a hot water dispenser.
This espresso machine has rapid steam technology that heats up quickly for brewing and steaming. Its ceramic burr grinder and bypass doser make it possible to use whole beans or pre-ground coffee beans, and it adapts to your preferred bean type.
The water reservoir and dreg box pull out from the front of the machine for quick and easy cleaning.
A 1-year warranty comes with your purchase.
Pros
Milk frother/Hot water dispenser
Easy clean up
Includes grinder/bypass doser
Adaptable to bean type
LED display
1-year warranty
Cons
Small water reservoir
Small cup space
2. Gaggia Classic Pro Espresso Machine (Best Semi-Automatic)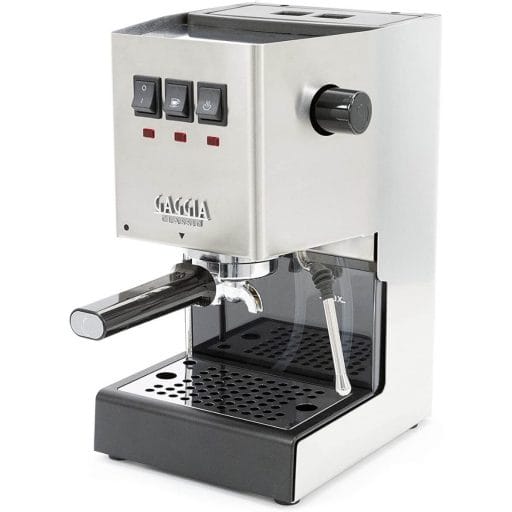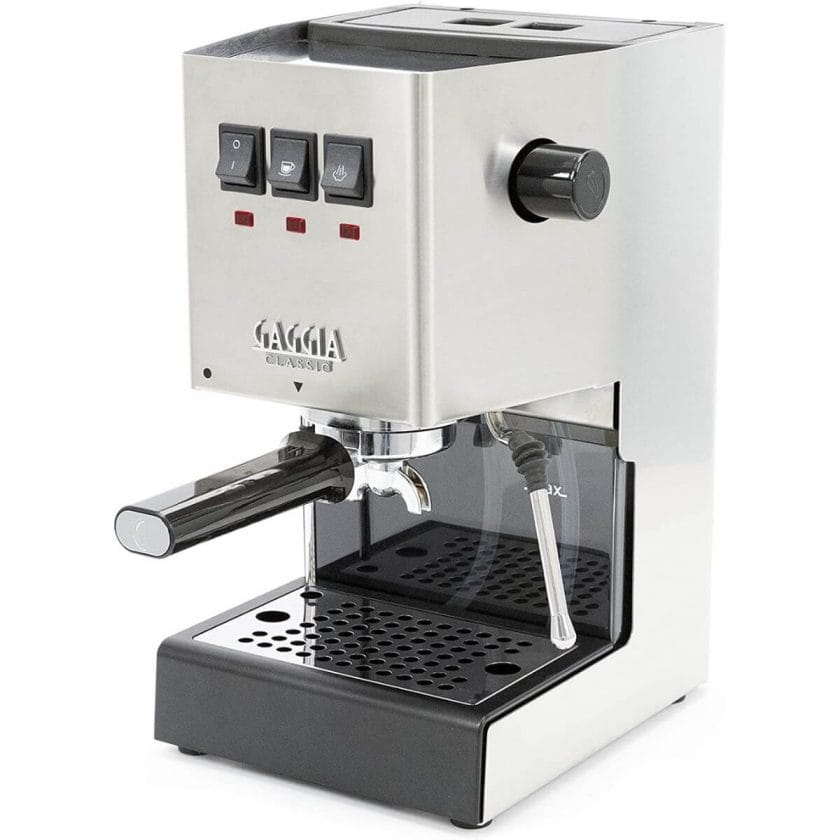 The Gaggia Classic Pro is smaller than the Gaggia Super Automatic Espresso Machine, but a valuable option nonetheless. It comes in brushed stainless steel and is an option for those with small counter spaces.
This machine comes with a commercial steam wand and a commercial-style portafilter. It comes with multiple pressurized filter baskets and a commercial basket you can use with your own grinder.
The classic pro heats up within 5 minutes and is ready to steam within 30 seconds. Pump mounts are in place to minimize noise during the brewing process.
The control panel has three switches: a power switch, a brewing switch, and a steaming switch.
Pros
Easy to use
Compact
Quiet brewing process
Quick heat-up
Cons
The portafilter is difficult to remove
3. Gevi Professional Espresso Machine (Best with Grinder)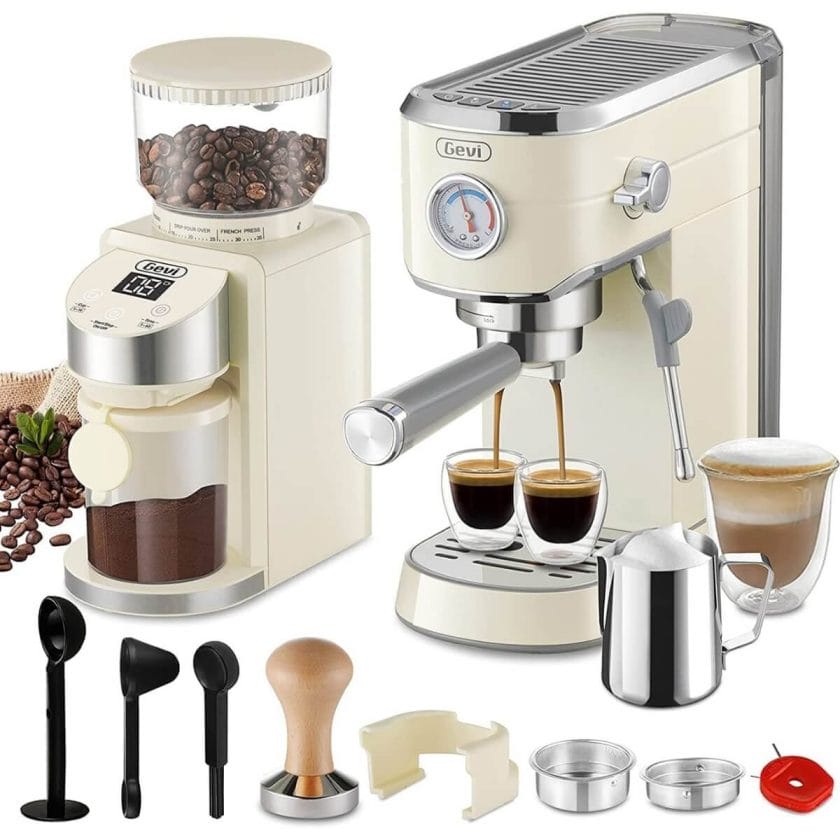 The Gevi espresso machine has a 20-bar high-pressure pump, comparable to espresso machines used in coffee shops, which means excellent crema for your espresso.
Its built-in pressure gauge helps you see the exact pressure for the optimal espresso extraction.
This machine's steam wand is adjustable and can work for different cup sizes. It has a hot water option for you to use for hot tea or another hot beverage, such as an Americano.
The following items come with your purchase: a coffee bean grinder, two shot glasses, two powder chambers, one coffee spoon, one cleaning brush, one double-cup tamper, and one frothing jug.
Pros
High-pressure pump
Grinder included
Adjustable frother
Built-in pressure gauge
Lots of extras
4. Calphalon Temp IQ Espresso Machine (Best with Frother)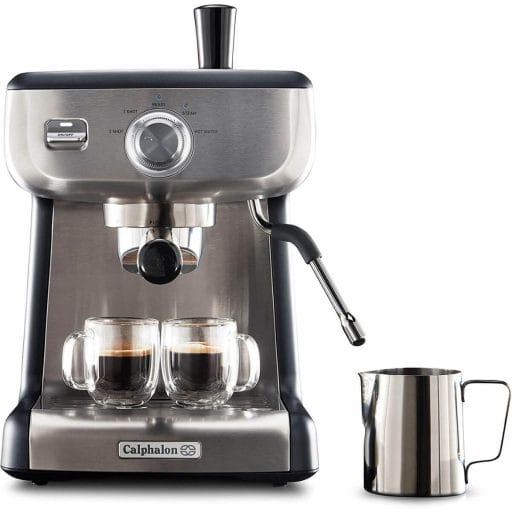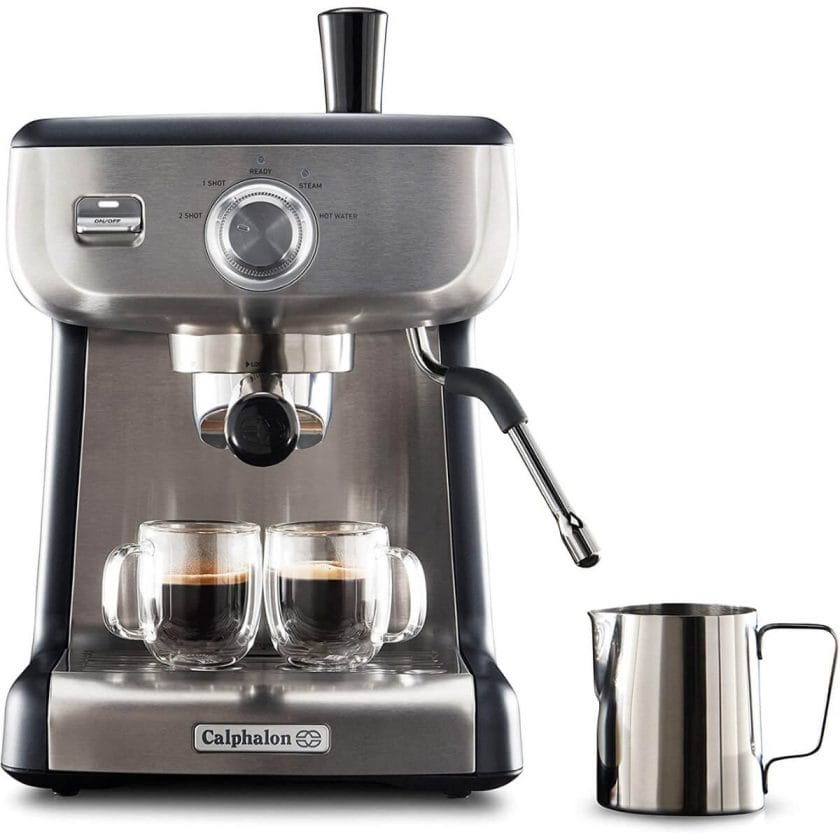 This espresso machine has a 15-bar high-pressure pump system. It produces quality espresso and a flawless layer of crema.
It has thermoblock heating technology and PID temperature control that gives you a great-tasting espresso every time.
The dial interface gives you three options: hot water, steam, or double and single shots.
A removable 2L water reservoir, a cup warming tray, and a frothing wand are included with your purchase.
Pros
Thermoblock heating technology
Temperature control
High-pressure pump system
Double shot option
Cup warming tray
Cons
The water tank is on the back.
5. Breville Duo Temp Pro Espresso Machine
The Breville Duo Temp Pro system produces perfectly balanced espresso with rich, bold flavors. It has a low-pressure pre-infusion process that helps the flavors come out evenly.
The water temperature is auto-controlled through thermo-coil heating, which also contributes to extracting the natural flavors of the espresso.
It comes with a high-power steam wand that helps you create cafe-style lattes.
You will see a power button on the left and a steam/hot water button on the right.
The dial in the center is what you will use to choose your cup size.
Pros
Pre-infusion process helps flavor
High-power steam wand
Cup size options
Auto-temp control
6. Breville Bambino Plus Espresso Machine
This Breville espresso machine is more compact than the previously mentioned one, but its size doesn't decrease its quality. This machine produces a balanced, full-bodied espresso like the Duo Temp Pro.
The Bambino Plus has a low-pressure pre-infusion process that contributes to a better-tasting espresso. It has a 3-second heat-up time and a quick brewing time.
The control buttons include a power button, one and two-shot options, a steam option, a frothing temperature control, and a frothing texture control.
Pros
Pre-infusion process
Single or double-shot options
Frothing temp control
3-second heat up
Cons
Coffee filter is hard to put on
The drip tray is a little flimsy
7. Breville Bambino Espresso Machine
This is another option from the Breville brand. It is more compact than the previous two and simple to use.
It has single and double espresso cup options and a hot water and steam option.
It has a low-pressure pre-infusion process with a 3-second heat time that delivers the same excellent taste you should expect from a Breville espresso machine.
The powerful steam wand will froth your milk beautifully for the perfect latte.
Pros
Compact
Single and double-shot options
Steam and hot water options
3-second heat time
Low-pressure pre-infusion process
8. Mr. Coffee Espresso Machine
The Mr. Coffee Espresso machine has a nice setup with two reservoirs, one for milk and one for water. They are both on the side of the machine, which makes it easier for you to keep track of the levels.
This is a programmable coffee maker with an automatic milk frother. You can program it to make a single or double shot of espresso, a latte, or a cappuccino.
It has a 19-bar pressure system that ensures a quality espresso every time.
Pros
Milk and water reservoir
Programmable
Makes cappuccinos, lattes, and shots
19 bar pressure system
Automatic milk frother
Cons
Milk container is tricky to clean
Filter cup falls out easily
9. Lavazza Capsule Coffee Machine (Best Capsule Machine)
The Lavazza capsule coffee machine is a multi-use system. It has all the options you could ask for – single shot, double shot, 8 oz cup of coffee, lungo, macchiato, latte, and cappuccino.
A vessel, a milk frother separate from the machine, is included with the purchase of this capsule machine. Your purchase will also include a 32-capsule pack and an extra vessel.
This espresso machine is compact, simple to use, and convenient. It also includes a standby mode.
Pros
Seven coffee options
Milk frother included
An extra frother and 32 capsule pack included
Compact
Easy to use
Cons
Only takes Lavazza capsules
10. Flair Espresso Maker Pro 2 (Best Manual)
This contraption is quite different from the rest. That is because it is 100% manual. It has no touch screen, no buttons, and no auto settings. It's just the espresso maker and you.
This Flair Espresso Maker is a high-quality, fully-manual system. It has a pressure gauge with a stainless steel plunger, stainless steel dispersion screen, stainless steel spout, and stainless steel bottomless portafilter.
Because this espresso maker is 100% human-powered, it is the best option to take on trips, whether you are going camping or traveling for work. It's portable and easy to clean.
Pros
Portable
Easy to clean
Made of durable material
Gauge included
Cons
There is a learning curve
11. Calphalon Compact Espresso Machine
This space-friendly espresso machine is another option for somebody looking for a compact espresso machine. It is only 6 inches wide and 12 inches tall, meaning you can fit it pretty much anywhere.
It has a simple control design with a power button, single and double shot buttons, and a steam button. It has a built-in frother and a dial for choosing the amount of froth you want.
There is a warming cup tray on top to keep your cup warm while you make another, and the machine includes two drip trays for supporting different cup sizes.
A milk jug, tamper, and dual wall filters are all included with your purchase.
Pros
Easy to use
A built-in frother and pressure dial
Compact
Warming plate
2 drip trays
Includes milk jug, tamper, and filters
Cons
Milk frother can be challenging to master
12. Philips Automatic Espresso Machine
This is another great option if you want to go all out with a fully automatic espresso machine. It comes with a classic milk frother and a touchscreen display that will brew one or two shots of espresso at the touch of a button.
This machine includes automatic ceramic grinders, an aqua-clean compatible filter, and a removable brew group.
It has espresso, coffee, hot water, steam options, and controls for the ceramic grinders.
Pros
Fully automatic
Sensored touch display
Ceramic grinders
Coffee and espresso options
Hot water option
Frothing wand
Cons
Button sensors have a slow reaction time
Espresso could be hotter
13. De-Longhi Coffee Maker and Espresso Machine
The De-Longhi espresso machine is an all-in-one machine that is great if you want to switch things up daily. Using it will make you feel like you're a professional barista.
It has a zero-wait, dual-heating system that allows you to make coffee and espresso simultaneously. The touch screen is digital and includes a digital timer for programming.
This espresso maker has a bold feature, which means you can adjust the boldness of your espresso to match your preferences.
Pros
No wait heating
Coffee and espresso maker
Touch screen controls
Digital timer
Bold option
Cons
Portafilter is low quality
Frothing wand is not durable
Bold doesn't work with auto brew
14. Nespresso Vertuo Coffee and Espresso Machine
This espresso machine is a compact capsule machine that doubles as a coffee maker. It is a one-touch brewing system with a removable water tank and automatic capsule ejection and storage.
It has four cup sizes: Espresso, double espresso, Alto, and Gran Lungo.
It has centrifusion technology that uses centrifugal pressure to brew an evenly balanced cup.
With Bluetooth and WiFi technology, you can update your machine to brew a variety of coffee types.
You will receive 30 Nespresso pods of different intensities with your purchase.
Pros
Espresso and coffee make
One-touch brewing
Auto capsule ejection
Four cup sizes
Blue-tooth and WiFi
Cons
Difficult to close
Pods are pricey
15. De'Longhi Espresso and Cappuccino Maker
This De'Longhi espresso maker is another space saver. It isn't as compact as others but is a nice size that doesn't take up too much counter space.
It has a 15-bar professional pressure pump that produces quality espresso. It has an adjustable dial that is simple to use with four brewing options: Single espresso, double espresso, cappuccino, and latte.
It has a manual frother and a 3-in-1 filter holder to accommodate the various brew choices. There is a cup warmer on the top of the machine to keep your espresso warm when needed.
The water tank is removable and easy to clean.
Pros
Space saver
Four brewing options
Manual frother
3-in-1 filter holder
Removable water tank
15 bar pressure pump
Cons
Shot splitter is not consistent
Tamper is lacking in quality
Factors To Consider When Choosing an Espresso Machine Under $500
There are many factors to consider before you make your choice. Your decision depends on what it is you are looking for. Let's get into the various characteristics you should look for in an espresso machine.
Espresso Machine Types
Manual – A manual espresso maker is completely human-operated. No electricity is needed; you do the pumping manually, using a lever.

A manual espresso machine will have a gauge that you will use to measure the pressure as you are pressing the espresso. Learning to use a manual espresso machine takes time because the amount of pressure you apply is 100% up to you.
Semi-Automatic – This type of espresso machine automatically brews the espresso, but the rest of the components are controlled by you. You have to do the tamping and control the extraction timing. It takes some of the work off of you but keeps you involved in the process.
Automatic – Fully automatic espresso machines do most of the work for you. The extraction time is automated, so all you have to do is press the button and wait.
Super-Automatic – From the grinding of the beans to the brewing of the espresso, super-automatic espresso machines take care of it all. They usually have programmable settings, so they are pretty much labor-free.
Capsule – Capsule espresso machines are simple and require you to insert a capsule pod and press the brewing button to brew your espresso.
The Space You Have Available
The more bells and whistles you want, the larger the espresso machine. However, you can find small to medium espresso makers with plenty of extra accessories.
Consider how much counter space you have. If space isn't limited, then go all out and get the multi-use espresso maker that makes two cups at a time and has a built-in frother, grinder, and reservoir.
Of course, only go for that option if you plan to use the extra features and accessories.
If you need a space saver, plenty of options on the list will work perfectly, such as the Nespresso Vertuo Coffee and Espresso Machine.
The Durability
There is a lot to consider when it comes to the durability of an espresso machine. The machine has to produce a lot of pressure to make espresso. Pressure can put stress on the machine, especially when you use it daily.
Because of this, your espresso machine needs to be made of a durable material like stainless steel so it can withstand the pressure it takes to make the espresso.
Beyond the outer shell of the machine, consider attachments such as a frothing wand. If you love lattes and cappuccino, make sure the frother is made with quality material or that it can be replaced with a better one.
The Pressure Pump
Throughout the article, you have seen different levels of pressure pumps, like a 20-bar pump or a 15-bar pump. Pressure makes a difference to the quality of espresso. Without enough pressure, your espresso will taste weak.
The use of pressure during the brewing process creates the foamy crema and brings out the boldness of the espresso. The espresso machines with professional pressure pumps (15-20 bar pumps) extract the best crema and most flavor.
The Controls
The controls of espresso machines vary. You will find some with digital touchscreens, some with buttons or switches, and others with dials.
Some espresso machines have many brewing options, while others operate with a single button.
If you enjoy cappuccinos or lattes, it's convenient to have an espresso machine that gives you those options or at least has a milk frother.
To Have a Milk Frother or Not
If you drink your espresso shots straight, and that is all you drink, there is no need for a milk frother.
On the other hand, if you want to expand your espresso drink pallet, milk frothers come with most espresso machines and are a quick and easy way to make your favorite gourmet espresso beverage.
That said, not every milk frother/wand is as durable as it should be. The durability of the frother will affect the outcome of the froth consistency, so keep that in mind when you are choosing an espresso machine with a milk frother.
Other Espresso Machine Features
Auto-off – Not only will an auto-off switch save energy, but it's safer overall. Unfortunately, not everybody remembers to turn off their espresso machines, so an auto-off feature is helpful.
Adjustable Trays – Some espresso machines allow you to brew different cup sizes, but not all of them accommodate every size of cup. Adjustable trays make using different cup sizes much easier.
Programmable Options – Who doesn't love to wake up to the delicious fragrance of coffee? Some espresso machines allow you to program when and how to brew your espresso, what size cup you want, and the type of espresso drink you have.
Pressure Gauge – A pressure gauge is a must when using a manual or semi-automatic machine. To get the best extraction, you need to use the right amount of pressure, which is measured with a pressure gauge.
Auto-temp Control – This feature is very helpful as it keeps the temperature just right for the best extraction and saves you from worrying that the temperature is not right.
Coffee Bean Grinder – If you grind your beans at home, you can find espresso machines with built-in coffee grinders. Others, like the Gevi Professional Espresso Machine, come with separate grinders.
Warming Tray – This is a convenient, useful option for anybody. Whether you are making multiple cups or have to walk away from your machine for a few, the warming tray can keep your espresso warm until you are ready to drink it.
Hot Water Option – Do you enjoy the occasional Americano or hot tea? Some espresso machines have a hot water option that makes it simple to make other hot beverages.
Accessories – You will find that some espresso machines come with tons of accessories, including espresso cups, a milk froth jug, extra filters, a coffee spoon, etc. All-in-one packages are always appealing.
Our Verdict
Go big or go home, right? At the top of the list sits the Gaggia Brera Super Automatic Espresso Machine.
This espresso machine is decked out from top to bottom. It takes care of every step of the process, from grinding the beans to brewing a delicious cup of espresso.
It has a push-button LED display that is programmable. It has a ceramic burr grinder, a milk frother, and a hot water dispenser, and it adapts to your coffee bean type.
It's also nice to look at, which never hurts!
If you want quality, durability, and convenience, this Gaggia espresso machine will meet all your espresso needs.
Which One Do You Choose?
The research has been done for you, so you don't have to worry about picking the wrong one. Just refer to the list above. Every espresso machine on the list is worthy of being chosen.
They are budget friendly with the quality you would get from a high-end espresso machine. Your thought process should go into the style of espresso machine you wish to have.
Is space more important, or are you looking for as many brewing options as you can get?
Don't need a decked espresso machine like our top pick?
No problem, you have 14 others to choose from. Take your time to look at the pros and cons of each espresso machine, and decide which one has exactly what you are looking for. You can't go wrong!