Our website is reader-supported. If you buy through the links in this post, we may earn a commission.
Espresso is a highly consumed coffee beverage in the United States. It is in such high demand because of its versatility and tastiness. Espresso can be consumed by itself or in a latte, cappuccino, macchiato, and the list goes on.
A 2022 study shows that espresso is a largely consumed coffee-based beverage in the United States, with 22% of the correspondents in the study stating espresso was their beverage of choice.
Many coffee drinkers get their espresso at a local cafe. But if you drink espresso often, it can get pricey. If you are spending more than you budget but don't want to give up espresso, it may be time to invest in one of the best espresso machines under $200 below.
| | | | |
| --- | --- | --- | --- |
| Best Fully Automatic | Mr. Coffee Cafe Barista | With a built-in frother, single or double shot options, and a 15-bar pump, this 15-liter capacity machine is user-friendly can make espresso, latte, or cappuccino and is easy to clean. | See Product |
| Best Semi-Automatic | De'Longhi Stilosa Manual Espresso Machine | Space-saving espresso machine featuring a black and stainless steel design. With a built-in manual milk frother, two-level cup holder, 15-bar pressure pump, and stainless steel boiler. | See Product |
| Best Capsule | Nespresso Pixie Espresso Machine | Compact espresso capsule machine, featuring a quick 25-second heat-up time, automatic shut-off, and minimal cleanup. | See Product |
| Best Manual | Flair Espresso Maker | Travel-friendly and electricity-free. Craft espresso shots using a lever to press coffee grinds. Stainless steel brewing head and aluminum press stand. Durable and easy to clean. | See Product |
| Best With Grinder | EspressoWorks Espresso Machine | This espresso machine offers a milk frother, single/double shot baskets, 15-bar pump pressure and a coffee grinder. | See Product |
Why Invest in an Espresso Machine?
Advanced technology has made having a professional, quality espresso at home much easier. And the right espresso machine will make you feel like you're sipping an espresso from a fancy cafe.
Going to a cafe can be cumbersome. The traffic to get there, the lines inside, the wait for your coffee behind everybody else that just ordered – not fun at all! How many times have you been late for work or an event because of it?
Investing in an espresso machine can help eliminate all of those problems and be suitable for the days you want to stay home and relax or when you need an extra shot of espresso for an afternoon boost.
You don't have to sacrifice quality to save a buck, at least not when it comes to espresso machines, because the options are vast.
Choosing an espresso machine can be overwhelming, since the choices are seemingly endless. This article is a guide to help you decide which espresso machine is for you, so you can enjoy your professionally tasting espresso without stepping out of your house.
11 Best Espresso Machines Under $200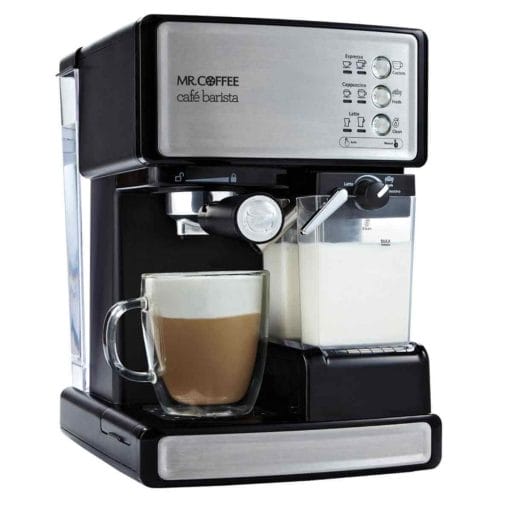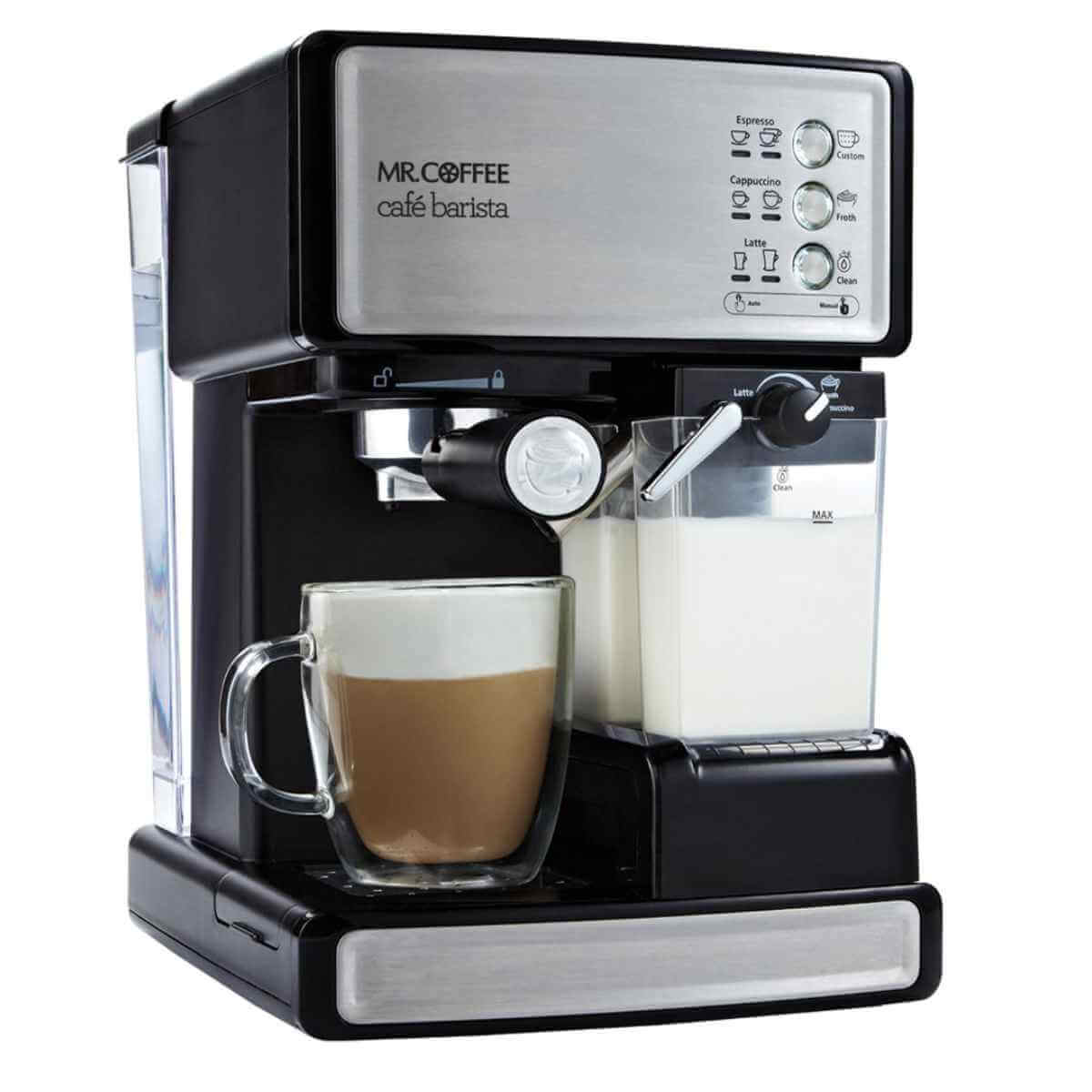 If you are versed in anything coffee, you have heard of Mr. Coffee. It is a well-known brand that produces quality products. This Mr. Coffee Espresso machine is an example of that.
This is an automatic, programmable espresso machine with the option of making an espresso, latte, or cappuccino. It has a built-in frother to help you make a beautiful foam for your lattes and cappuccinos.
You can make a single or double shot with the touch of a button.
It is a 15-bar pump and has a 15-liter capacity. It is easy to clean and easy to use.
Pros
Makes espresso, cappuccino, and latte
Built-in frother
Milk frother included
Single or double shot
Easy to use and clean
Cons
The milk frother is not consistent
This espresso machine is black and stainless steel. It is a compact design that doesn't take up much counter space but still has the features you need in an espresso maker.
It comes with a manual milk frother and a two-level cup holder. It has a 15-bar pressure pump and a stainless steel boiler.
This espresso machine is manual but easy to use for making your choice of espresso beverage.
Pros
Compact design
Milk frother included
Two-level cup holder
Simple to use
Stainless steel boiler
Cons
Needs a better tamper tool
The ILAVIE espresso machine is a stainless steel, 20-bar espresso machine. It pumps quickly to make a rich and creamy espresso. The high pressure creates a beautiful espresso crema.
This machine has a built-in stainless steel milk frother wand, and you can make one or two cups of espresso at once with an easy on/off press button.
It has a removable water tank for easy refills and a cup warmer on top.
Pros
Stainless steel
Can make 2 cups at once
SS milk frother wand
Easy on/off button
20 bar pressure pump
Cons
Portafilter isn't the easiest to clean thoroughly
The Kwister espresso machine is another 20-bar stainless steel espresso maker. The control panel is a touch screen that is waterproof, dustproof, and anti-fingerprint. It also has a child lock, which is an excellent feature if you have young children.
This machine has constant heat control and a milk frother wand with built-in pressure control. The frothing wand rotates 360 degrees to make the perfect foam for your beverage.
You have the option of making one or two cups of espresso. The 50oz water tank is removable and easy to refill without a mess.
Pros
Touchscreen controls
Child-lock feature
Consistent heat control
360-degree rotating frothing wand
Removable water tank
Cons
It takes time to learn how to use
This espresso capsule machine is a compact, user-friendly choice. It comes with complimentary Nespresso capsules to get you started.
It takes only 25 seconds to heat up and has an automatic shut-off that prevents unnecessary energy from being used.
Because this is a simplistic machine, there is very little cleanup time. This capsule machine is an ideal choice for a beginner's espresso machine.
Pros
User-friendly
Complementary capsules
Quick heat-up time
Automatic shut off
Little clean-up
The LOR espresso machine is a two-in-one machine that makes espresso or coffee. It has three size buttons (6 sizes) that apply to regular coffee and espresso, whichever you desire that day.
This machine is a 19-bar pressure system that delivers rich espresso with excellent crema.
This capsule machine is compatible with LOR capsules and Nespresso original coffee capsules.
Pros
It can make coffee or espresso
Makes excellent crema
Six sizes (3 coffee & 3 espresso sizes)
Compatible with Nespresso capsules
Cons
It could be more durable overall
This interesting-looking espresso maker is manual and travel-friendly. Like to camp but don't want to miss out on your espresso? The Flair is an espresso maker you can bring with you.
It requires no electricity. Instead, you craft the espresso shots yourself by using the lever to press the coffee grinds. Once your espresso is made, it is quick and easy to clean up and store.
The Flair espresso maker has a stainless steel brewing head and an aluminum press stand. It is made to last.
Pros
Outdoor and travel friendly
No electricity needed
Easy clean-up and storage
Long-lasting materials
Cons
Takes time to learn how much pressure to use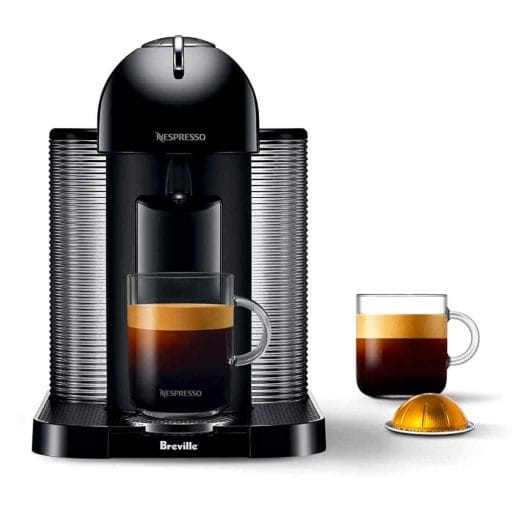 The Vertuo espresso machine is similar to the previously mentioned LOR espresso machine. Both are made by the same company and have similar features.
The Vertuo has four size options, 2 of them being espresso options. It is a single-touch brewing system with a removable water tank that holds a maximum of 5 cups.
This system is a capsule system that has automatic capsule ejection and storage. The machine is compact and will not take up much counter space.
Pros
Four size options
Brews coffee and espresso
Removable water tank
Compact
Capsule storage
Cons
Water doesn't get very hot
The Gavi espresso machine is a sleek stainless steel machine with a built-in adjustable steam wand and built-in pressure gauge. It has a 20-bar pressure pump that ensures professional espresso quality.
It has a hot water option for you to make other hot beverages, like regular coffee or hot tea.
You will get a reminder when the machine needs to be cleaned and a warning to refill the water tank. The system will automatically stop brewing when there's no water left in the tank.
Pros Cons
Sleek design
A high-quality pressure pump • Will overheat if you run out of water
Pressure gauge
Milk frother
Clean and refill reminder
Hot water option
Pros
Sleek design
A high-quality pressure pump
Pressure gauge
Milk frother
Clean and refill reminder
Hot water option
Cons
Takes time to froth
Will overheat if you run out of water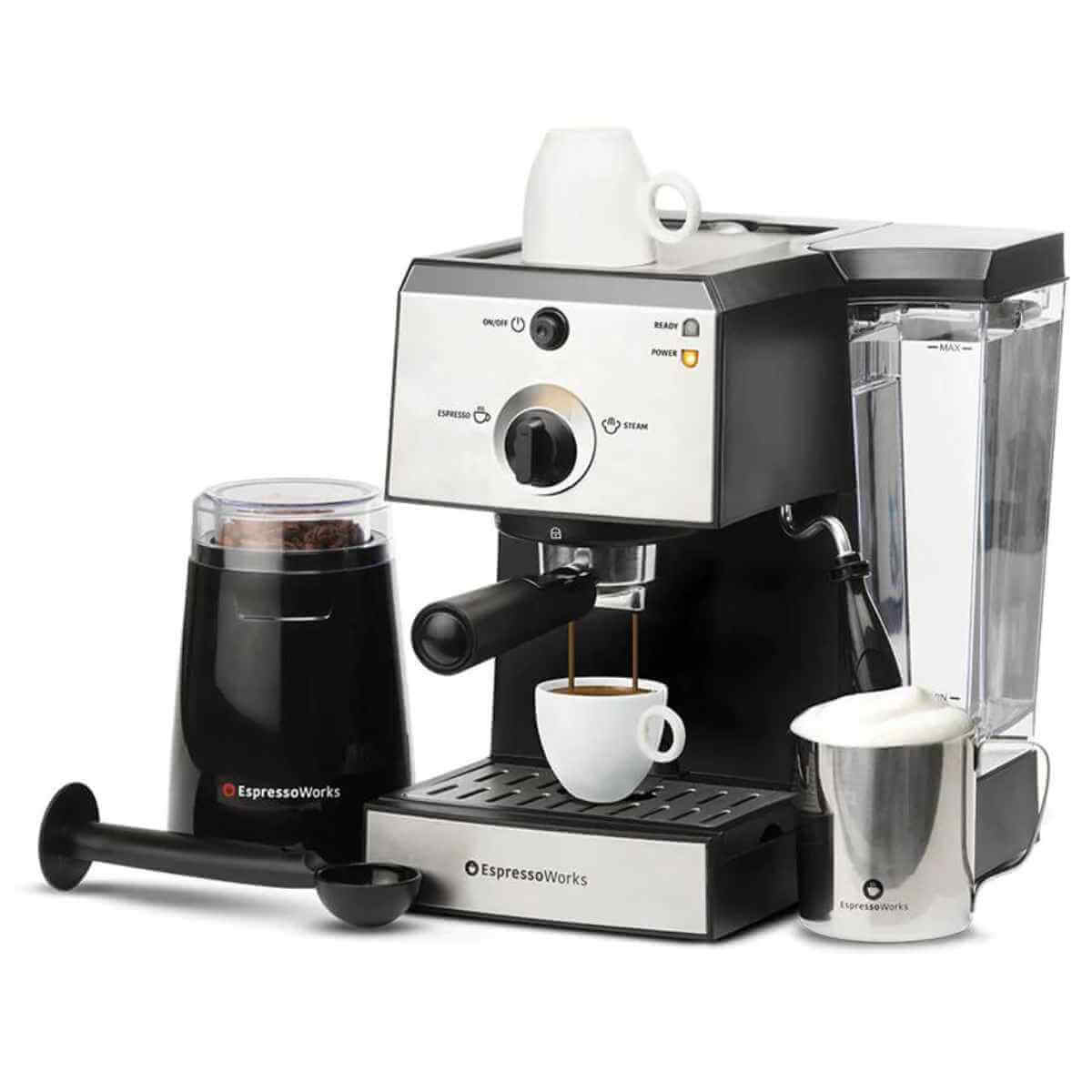 Although this espresso machine is a little over $200, with the $20 coupon that is often available, you can get this machine plus a coffee bean grinder for right at $200!
This stainless steel EspressoWorks machine has a milk frother, single and double shot baskets, a frothing pitcher, a scoop, 2 filters, and 2 espresso cups.
It has a 15-bar pump pressure system and a removable water tank with a capacity of 1.5 liters. It has temperature control, a thermoblock heating system, and an auto-shutoff.
Pros
Comes with grinder
Milk pitcher
Single and double-shot baskets
Espresso cups
2 filters
Temperature control
Automatic-shutoff.
Cons
Short steam wand
Only $200 with coupon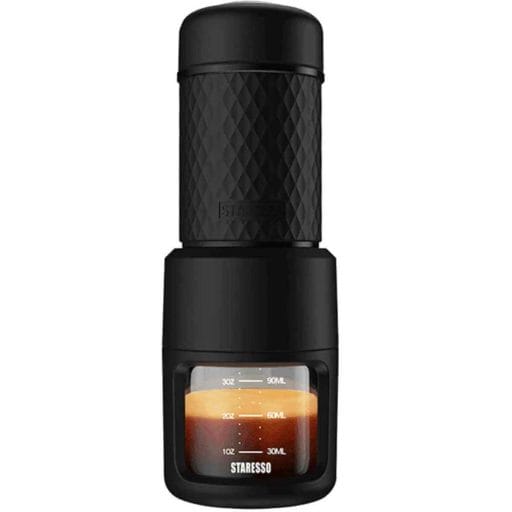 If you are looking for a travel espresso machine to accompany you on vacation or a business trip, the Staresso espresso machine is a must-try. It's small and easy to pack in any suitcase. It can be used with coffee powder or capsules.
The patented design of this machine is made to extract the intricate flavors of the coffee beans so that your espresso doesn't have to be compromised wherever you take it.
The Staresso has a stainless steel pressure tank, tank liner, and an all-metal core. It is made with renewable materials and comes with a 24-month warranty.
Pros
Portable
Easy to use
Patented design
Stainless steel tank
Made of renewable materials
24-month warranty
Cons
Does not heat the water
Not easy to pour
Espresso Machine Buyers Guide
Type of Machine
The type of espresso machine you buy will depend on a few main things: espresso drink type, counter space, and ease of use.
If you drink straight espresso, you won't need a complicated system with a built-in frother and lots of options.
On the other hand, if you are a latte or cappuccino lover, investing in an espresso machine with a quality frother and cup size options is a must.
If you have plenty of counter space, the size of the espresso machine doesn't matter much. However, if you have limitations, check out a compact espresso machine. You can find small espresso machines that still have the qualities you need to make more than a shot of espresso.
The espresso machines that have fancy touch screens with all the options can get overwhelming pretty quickly. It's okay to want something a little easier to use.
If you want a machine that has options, keep in mind that it will take time to learn how to use it properly.
Pressure
When it comes to espresso, pressure is a big deal. The pressure of the pump within the espresso machine is how it gets the taste and crema that deems it quality espresso. A system with little pressure will produce a weak shot of espresso, and who wants that?
A 15-bar pressure system is the most common, but you will find systems (some in this list) that have a higher pressure system: such as a 20-bar pressure system. Both types work well for espresso, but anything below 15 leaves the possibility of producing weak espresso.
Price
Spending a lot of money doesn't always mean getting the best product. On the other hand, not spending enough will leave you with a sub-par product.
Thankfully, the market for quality espresso machines is not tiny. You can get professional quality espresso machines well within your $200 budget.
Some espresso machines may be pricier because of all the extras that come with them. If you don't need the extras, don't spend the money. Get a simpler one.
What's Your Pick?
Are you tired of spending so much money on espresso drinks from cafes? Statistics show that you are not the only one. The number of people making their espresso at home is on the rise because of that reason.
Don't let the thought of making your espresso intimidate you. You can start small with a simplistic espresso maker or dive into the detailed instructions of one with all the extras.
Whether you are a homebody, a traveler, or a business person, there is an espresso machine for you. Don't let these great deals get away from you. Which one is your pick?