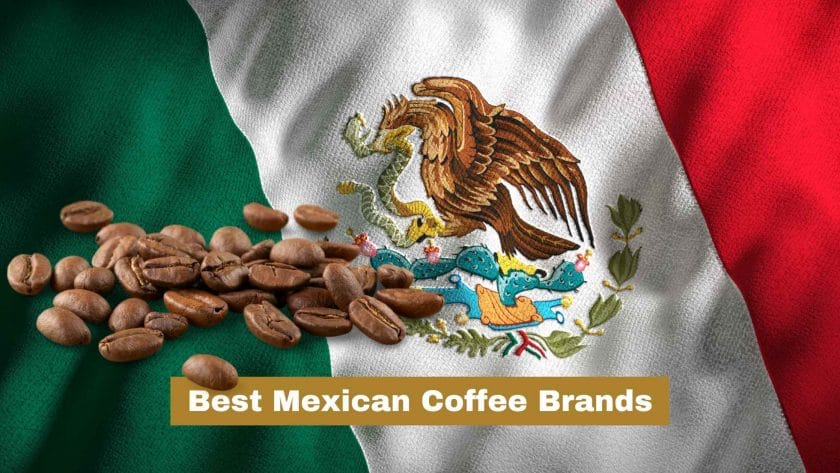 Mexico has a rich history of culture and tradition. There you can find a variety of food, tequila, and colorful festivals celebrating Mexican culture! But did you know that Mexican coffee is also part of their tradition?
Mexico began growing coffee beans dating back to the 18th century, but in the 20th century their coffee bean production blossomed. In the 21st century, Mexico is one of the top coffee producing countries in Latin America.
Mexican coffee may not be the first type of coffee you think of when you search for a good coffee brand, but it is one that you should consider. The best Mexican coffee brands represent Mexico's spicy, vibrant history and culture with the right amount of body, flavor, blend, and freshness.
Why is Mexican Coffee so Good?
Once you try Mexican coffee, you will find that it tastes different from other coffees. There are various reasons for this, all of which contribute to its unique and delicious taste.
It's Organic
Mexican coffee is known for being 100% certified organic. It is grown in the southern parts of Mexico where the soil is perfect for producing the finest Mexican coffee beans.
Not only are Mexican coffee beans organic, but the majority of the beans are grown by small-scale farmers who take special care to grow and handpick every bean. Some Mexican coffee farmers wet process and sun dry their beans to really bring out the natural flavors.
Natural Flavors
Being organic has its perks. Mexican coffee offers flavors that come straight from the earth. The natural flavors of Mexican coffee beans depend on the region in which they are grown.
From the humidity in Chiapas to the volcanic soils of Veracruz and in the mountains of Southern Mexico, flavors range from nuttiness with notes of chocolate to a full-bodied spiciness with hints of caramel or cinnamon you can only get from Mexican coffee beans.
Brewing Process
Part of the spice you taste in Mexican coffee comes from the beans, but that's not the only way you will experience Mexican culture in a cup of coffee.
To experience authentic Mexican coffee, you need to know what is different about the brewing process compared to other types of coffee.
The flair of Mexican coffee comes from adding cinnamon and brown sugar during the brewing process.
It brings out the natural spices in the beans and makes Mexican coffee taste so good. Some coffee brands do the work for you by adding the cinnamon and sugar into the coffee grounds.
Is Mexican Coffee Bitter or Sweet?
Mexican coffee is roasted until it is at a medium roast. It has a balanced acidity and a mild taste. Although it has more acidity than a dark roast, the natural nutty, spicy flavors tone down the acidity and bring it enough sweetness to balance the taste of the beans. Therefore, the answer isn't one or the other. Instead, balanced is the proper word for defining the body of Mexican coffee.
11 Best Mexican Coffee Brands
1. Fresh Roasted Coffee LLC – Organic Mexican
The Fresh Roasted Coffee company was established in 2009 and has delivered fresh, organic, and kosher coffee ever since.
Their Mexican roast is one of their many popular roasts. This roast is single-origin from Mexico. These beans are wet processed and sun-dried to ensure the only chosen beans are the best.
The medium roast blend is nutty and sweet, with a bit of fruitiness. The beans contain no artificial flavors or additives, so what you taste is all natural.
Pros
Certified Organic
No additives
All natural flavors
Kosher
Single-origin
Fresh, whole beans
Cons
Mild/slightly muted flavor
2. Volcanica Coffee Company – Mexican Coffee
Volcanica Coffee Company is family owned and operated. They offer exotic coffee that is grown and roasted with quality ingredients.
Their Mexican roast is a dark roast coffee with low acidity and a rounded, sweet, earthy taste. It has chocolatey undertones and comes from the Chiapas region.
Pros
Low acidity
Well-rounded taste
Sweet and earthy
Chocolatey undertones
3. La Monarca Bakery – Cafe De Olla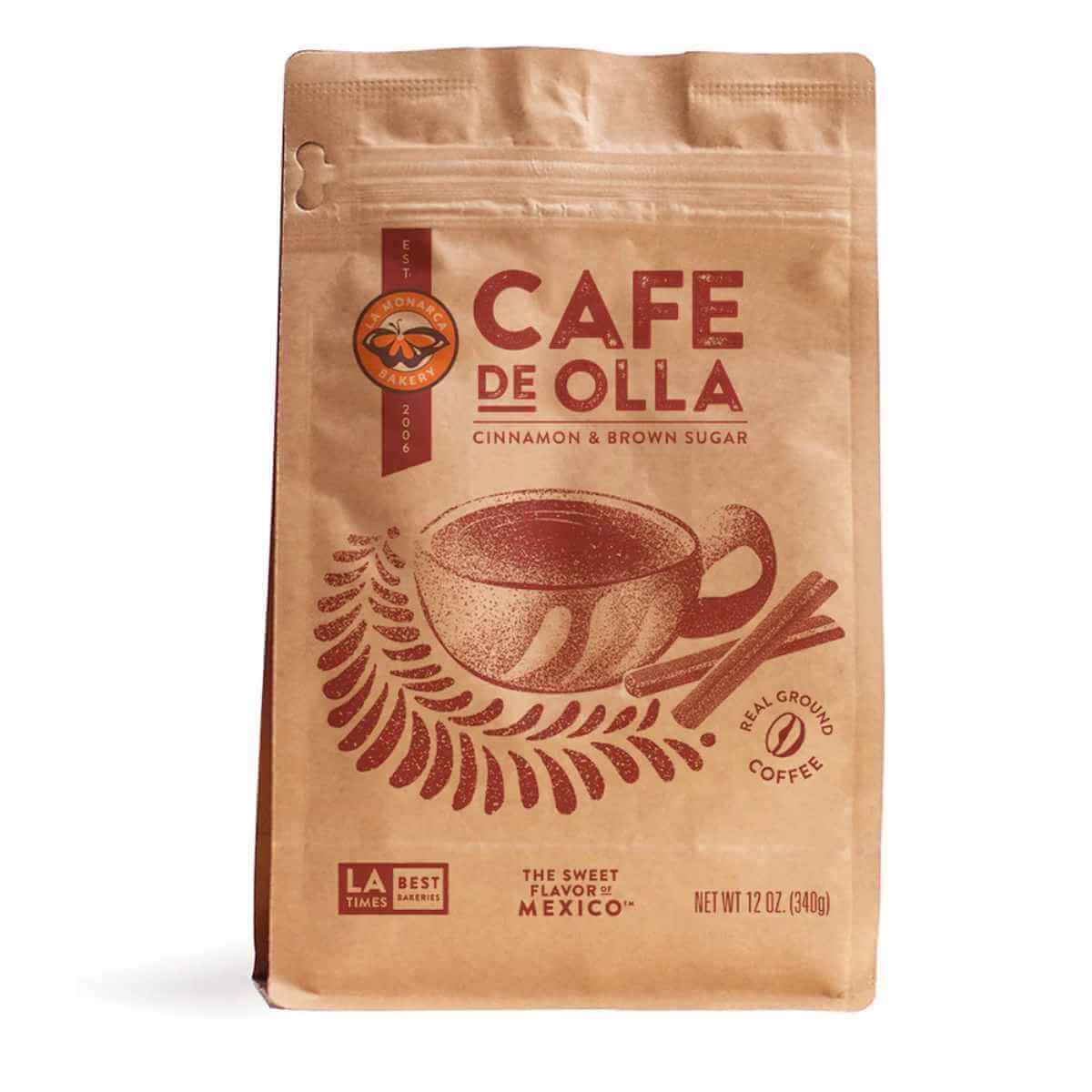 La Monarca is known for their pastries, hot chocolate, and coffee. They are dedicated to the environment and ensure their products are without preservatives or artificial flavoring.
Their Cafe De Olla coffee is a dark roast that comes pre-ground with cinnamon and sugar mixed into the coffee grounds. You get an authentic cup of Mexican coffee with every brew.
Pros
Preservative free
Sweet and spicy
No artificial flavors or colors
4. Anthony's Organic Whole Bean Coffee – Unroasted
Anthony's coffee beans are USDA organic certified and verified Gluten Free. They are grown in the volcanic soils of Mexico and come unroasted so that you can roast and grind to your liking.
These organic green coffee beans will take you back to the self-roasting days when people didn't buy pre-roasted beans. Nothing gets fresher than roasting and grinding your own beans at home. Once roasted, these beans land on the medium to dark scale with an earthy taste and just the right amount of acidity.
Pros
Organic certified
Gluten free
Fresh
Balanced
Cons
Some may not want the extra work of roasting
5. Etnia 52 – Oaxaca Intenso Mexican Coffee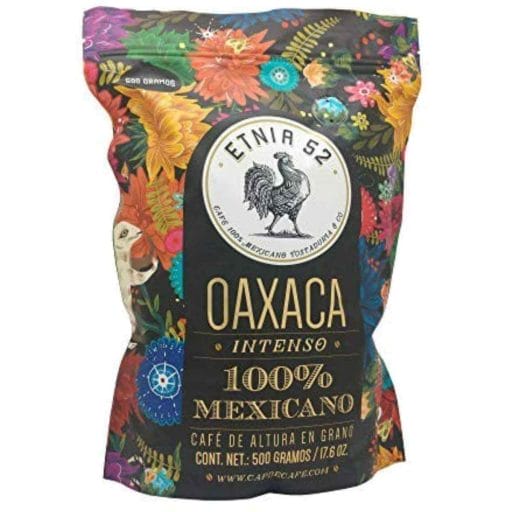 Etnia 52 began their journey selling food, but in 2016 they joined the coffee industry and has since become a notable brand.
With their specific roasting and grinding processes, Etnia 52 delivers premium coffee beans in packaging constructed to keep them fresher and longer. Their Oaxaca Intenso Coffee is bold and aromatic with hints of dark chocolate, caramel, and floral notes.
Pros
Packaging keeps freshness longer
Strong and aromatic
Hints of dark chocolate and caramel
Floral notes
6. Coffee Bean Direct – Organic Whole Bean Coffee
Coffee Bean Direct keeps their roast going to ensure you get the freshest coffee in every bag. They are climate-friendly, organic, and fair trade.
Their Chiapas whole bean coffee is a lighter roast with fruity and nutty flavors and on the acidic side of the scale. Despite its acidity, it has a balanced body for your enjoyment.
Pros
Organic
Climate-friendly
Balanced body
Fruity and nutty
Cons
May be too light for some
7. Dancing Moon – Mexican Chiapas Coffee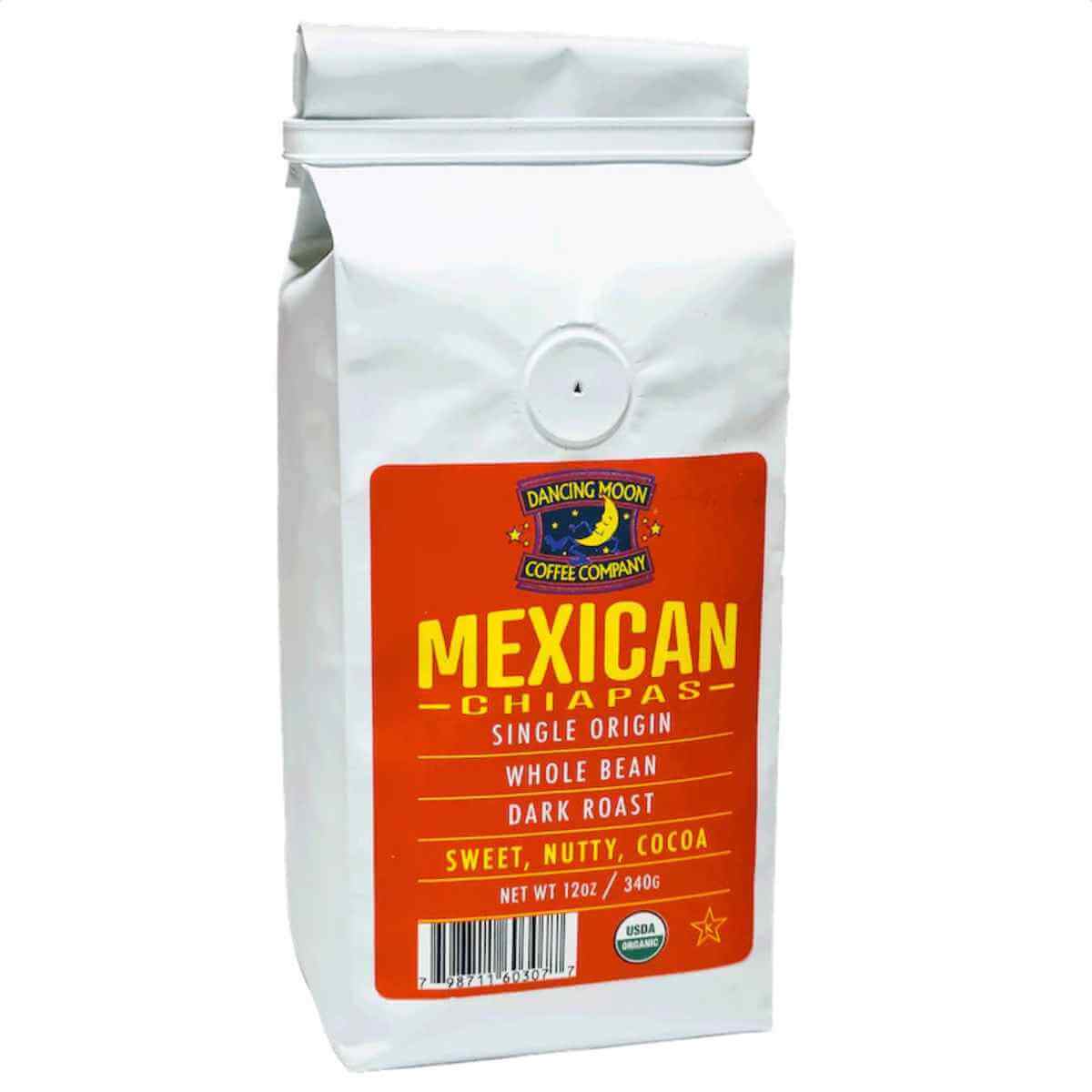 Dancing Moon is also another climate-friendly, fair trade, and organic-certified. The brand was founded in 2015 and has grown tremendously since its founding.
Their Mexican Chiapas whole bean coffee is a dark roast with a chocolatey, sweet, nutty flavor with a bit of citrus. It is single-origin and non-GMO.
Pros
Fresh, whole bean
Non-GMO
Organic
Balanced body
8. Fuego Sweets – Cinnamon Spiced Cafe De Olla
Fuego Sweets made by Caralarga, a small California business, is roasted fresh and packaged in their small facility. This small batch of coffee brings Mexico right into your home.
It is a medium-dark roast that is ground and mixed with cinnamon and sugar to give you the authentic Mexican experience of Cafe De Olla. The roast brings out its natural chocolaty, nutty flavors.
Pros
Fresh
Cinnamon flavor
Natural flavors come through
Beautiful aroma
Cons
Only comes in a 12 oz bag
9. Cafe Garat – Gourmet Mexican Coffee
Cafe Garat puts a lot of work into making their beans truly gourmet. They deliver their best – from picking only the perfectly ripe beans to roasting them just enough for the natural flavors to come out.
This gourmet Mexican coffee is a medium roast that offers a bold brew that goes down smoothly. It has a balanced body, an excellent aroma, and a deep taste.
Pros
Gourmet
Balanced body
Deep taste
10. Come Alive Organics – Cafe De Olla Mexican Coffee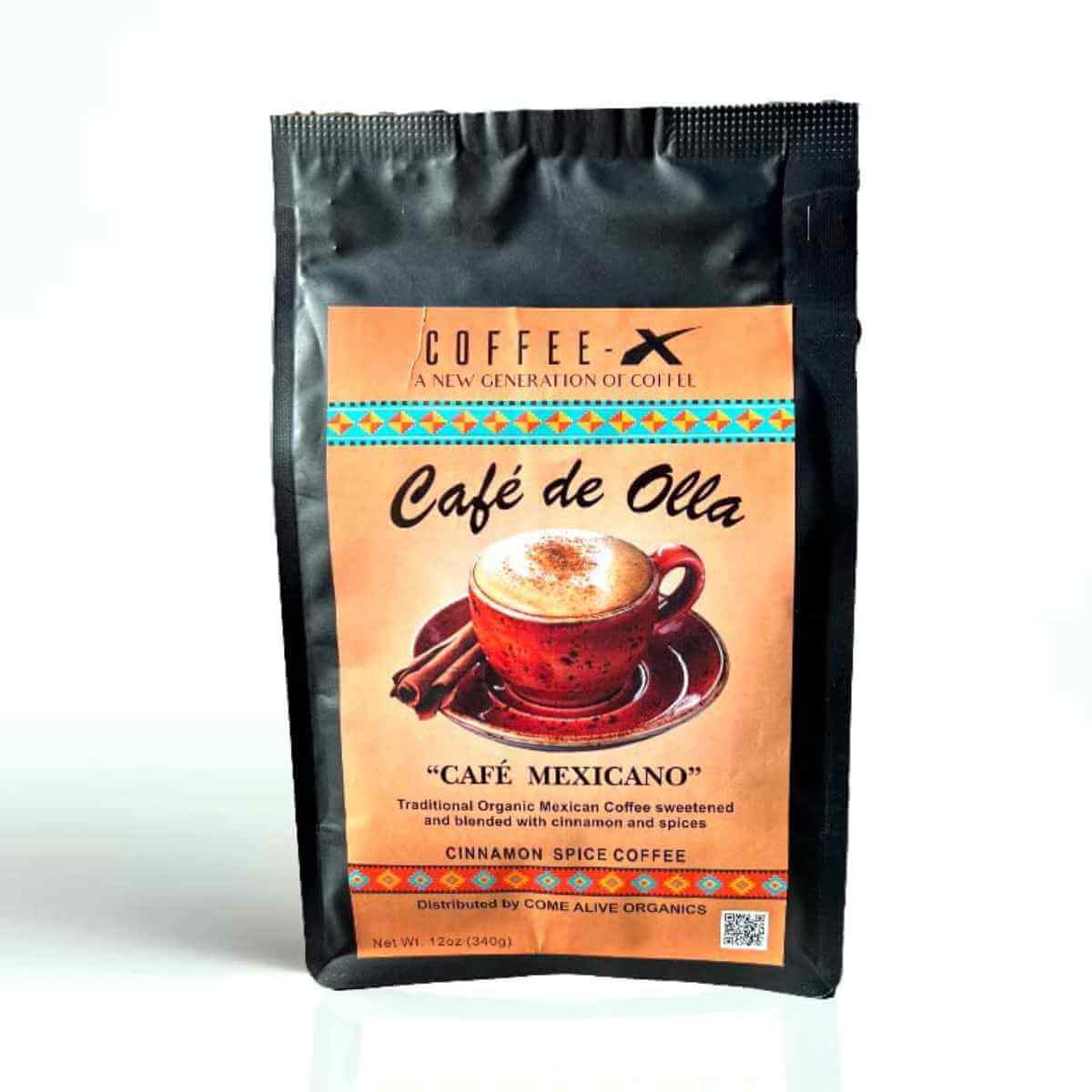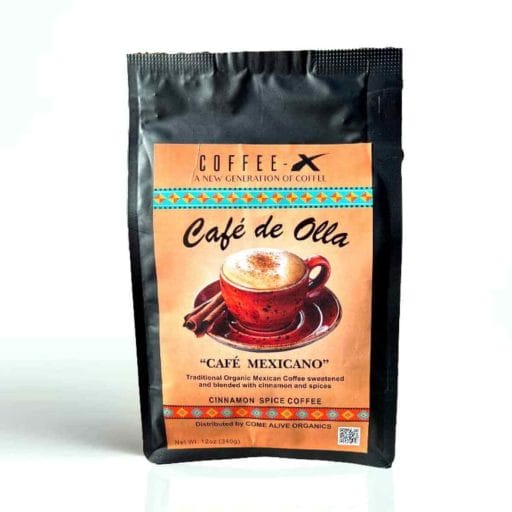 This authentic Mexican coffee is another delicious blend of coffee grounds, cinnamon, and sugar. It is a medium-dark roast that brings out its natural flavors and has some spices mixed in to make it extra delicious. You will taste a little bit of chocolate, caramel, and nuttiness in each cup. With all flavors combined, your taste buds will be dancing.
Pros
Full of flavor
Sweet and spicy
Natural flavors come through
Cons
May be too sweet for some
11. Lacas Coffee Company – Dark Roast Mexican Coffee
Lacas Coffee Company has been roasting coffee beans since 1921. With over 100 years of experience, they have their roasting process down to an art.
It is fair trade certified, climate pledge friendly, and certified organic.
Their dark roast Mexican coffee comes as a whole bean or medium ground. It has a deep profile and medium body with chocolate and black cherry flavors.
Pros
Deep flavor profile
Comes whole bean or ground
Natural flavors of chocolate and black cherry
Certified Organic
Mexican Coffee Buyers Guide
Knowing what to look for in Mexican coffee will save you the headache of figuring out which one fits your desires best. Here is what you need to know.
Flavor
There is a lot that goes into the flavor of Mexican coffee. You will find that most Mexican coffees have nutty and fruity flavors combined with notes of chocolate, cinnamon, and spices. The best Mexican coffees deliver these flavors organically, with flavors naturally ingrained into the beans.
Roast
Most Mexican coffees are medium roast, but you will find some that are roasted medium-dark. The sugar and cinnamon that goes into the classic cup of Mexican coffee works wonderfully with a medium roast and helps even out the taste for a perfect finish.
However, if you prefer bolder coffee with less acidity, you can opt for a medium-dark roast and enjoy the flavors of a Mexican coffee with a little more kick.
Coffee Blend
Some Mexican coffees come with blends of cinnamon and sugar, making a sweet, flavorful cup of Mexican coffee many seek. If you watch your sugar intake and like to control how sweet it is, stay away from these pre-blended coffee grounds.
Brewing Method
Pre-ground Mexican coffee is brewed in a variety of ways. You can make it with a regular drip coffee maker, in a French Press, or using the pour over method. You will have more options if you like to grind your own beans at home.
Price
It's always important to look at what you're getting compared to how much you are spending. If your budget allows it, splurge and spend a little more on the premixed coffee grounds for convenience.
If you need to save a buck, there is nothing wrong with adding your own cinnamon and sugar at home. Whichever way you have it, choose one that will leave you smiling to the last drop.
The Best Choice
The best choice is number one on the list. Fresh Roasted Coffee LLC's Mexican coffee is at the top of the list for many reasons.
This coffee is versatile because it is single-origin, certified organic, and kosher. It has zero additives and no artificial flavors, so all the flavors you get are 100% natural. The flavor is mild with nutty and fruity notes, making it perfect for adding some cinnamon and sugar for a flawless cup of Mexican coffee.
The beans come whole, so you can grind them to the consistency you like and have a fresh cup of coffee each time you brew.
Will this be your pick? Take another look at the list and decide which one you want to try.
If you're new to Mexican coffee, go with a medium brew. For a bold cup of coffee, go for the dark roast. For convenience, go with the premixed ground coffee beans for a balanced sweet and cinnamony cup of Mexican coffee.