Unveiling the Ultimate Battle: Jura vs De'Longhi – A Comprehensive Comparison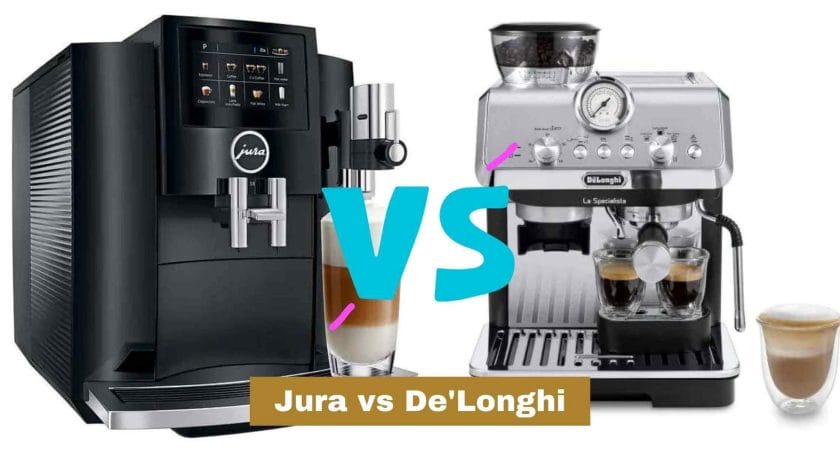 Searching for a quality espresso machine is tough, but not because of lack of choices. The amount of options is why choosing the espresso machine for you can be overwhelming.
Two brands you will often see when searching for an espresso machine are Jura and De'Longhi. Both brands have various options which suit different levels of espresso making.
Jura is known for its simplistic design and professional-tasting espresso. It produces, hands down, the tastiest espresso. De'Longhi is known for its many features and low prices. It may not have the same quality as the Jura, but it still makes a delicious cup of espresso.
Both brands offer various lines of machines ranging from beginner-friendly to professional barista style. Check out the rest of the article to see the differences between the two.
Key Differences Between Jura vs De'Longhi
When it comes to choosing between Jura and De'Longhi coffee machines, understanding the key differences can help you make an informed decision that aligns perfectly with your brewing preferences. Examining these distinctions in more detail allows you to gain valuable insights and select the machine that suits your needs and lifestyle.
Features
Jura makes fully automatic espresso machines. Their machines are straightforward and user-friendly. You won't find a plethora of features with Jura machines, but a design that makes it easy to brew your espresso with little effort.
De'Longhi espresso machines have all the features you could ask for. This brand offers semi-automatic and automatic espresso machines. The semi-automatic machines require a little more work on your end, but it isn't complicated to figure out.
De'Longhi makes a wide range of espresso machines, from beginner-friendly to expert-level.
Milk Frother
The quality of a milk frother is non-negotiable if you're a latte drinker that enjoys the foamy, creamy texture of freshly-frothed milk integrated into your delicious espresso.
Both brands have machines that include some sort of milk frother, although Jura offers some that are strictly for espresso and do not include any form of a milk frother.
When it comes to the best-performing milk frother, Jura wins. Some Jura espresso machines have built-in milk reservoirs and produce the finest quality frothed milk.
De'Longhi espresso machines mostly have steaming wands. Most steaming wands are manual and require knowledge of proper use. However, De'Longhi also offers espresso machines with automatic steaming wands, which makes things easier for you.
Quality
Quality should be at the top of your list if you invest in an espresso machine. Jura and De'Longhi offer machines with excellent build quality, but if you want to know which will last longer, it's Jura.
Super-automatic espresso makers, like Jura espresso machines, are designed to last around ten years, assuming you will keep up with the maintenance. They consist of high-quality stainless steel that withstands wear better than other materials.
De'Longhi machines are well-built but not as sturdy as the Jura machines. They will not last as long as the Jura machines, but if you take care of yours, you will still get years of use out of it.
Design
This is where the two brands differ quite a bit. Jura has a much more modern, sleek design that is far from conventional. Its digital touch screen adds to its fashionable style while making it easy to keep track of the brewing process.
De'Longhi espresso machines have a more conventional look. The design is bulkier and not as sleek as the Jura machines. De'Longhi machines do not include a touch screen and require manual steps from grinding to brewing.
Flavor
Choosing an espresso machine depends on how well it produces flavorful espresso.
The De'Longhi espresso machines produce a decent tasting espresso. It may not be the best you've ever had, but it won't be the worst either. If you prefer an espresso that is a little less bold, the De'Longhi machines are the best option.
Jura is a whole different ball game. Their machines produce an aromatic, bold, flavorful espresso that tastes like a professional barista made it. The Pre-Brew system wets the coffee grounds before extraction and is one of the main reasons Jura's espresso is superior to De'Longhi's.
Ease of Use
Both brands are user-friendly. Jura stands out for its self-cleaning ability, which includes programmable cleaning, rinsing, and descaling. The only part of the machine you have to clean is the drip tray. Jura's digital user interface is uncomplicated and beginner-friendly.
De'Longhi has more parts to clean, but its use is simple. They are easily removable and cleaned with soap and water. Other than that, you have to run a descaling cycle every once in a while to keep up with the maintenance.
Price
De'Longhi machines are more affordable than Jura machines. If you want tons of features and have a tight budget, De'Longhi is the way to go.
If you are particular about your espresso, Jura is best, but know that spending more gets better quality. It ultimately depends on what feature is at the top of your list.
Warranty and Customer Support
In general, De'Longhi has a one-year warranty on all of their machines that covers any defects or quality issues. Jura offers the same coverage but with a two-year warranty.
There may be slight differences depending on the model for each brand.
Customer support reviews for both brands are overall positive. They report quick responses and receive replacement parts promptly.
Jura vs De'Longhi Compared
| | | |
| --- | --- | --- |
| | Jura | De'Longhi |
| Entry-Level | Jura D6This machine is easy to use and has the option to brew plain espresso or a cappuccino.9.1"D x 9.1"W x 9.1"H64oz Capacity7 drink optionsFeatures IncludeDigital displayCoffee bean grinderCustomizable strength and mill volumeAroma G2 Grinder | De'Longhi EC155This machine is compact and brews espresso, cappuccinos, and lattes.12.2" D x 19.3"H x 15"H1 Liter Capacity3 drink optionsFeatures Include15-bar pressure pumpTwin brewing cycleCup warmer |
| Mid-Range | Jura E8The Jura E8 has a one-touch option, so you can get your coffee of choice with a single touch of a button.12.2"D x 20"W x 16.1H64 oz Capacity16 Drink OptionsFeatures IncludeAroma G3 GrinderPlus Extraction ProcessProgrammable brewingFine foam G2 frother | De'Longhi La SpecialistaThe La Specilista has analog controls, giving it an old-school feel, but it works with new-age technology.11.22"D x 14.37W x 15.87H56 oz Capacity3 pre-set coffee recipesFeatures Include8 grind settingsTemperature controlMy Latte Art wand for professional foam |
| High-End | Jura Giga 6This machine is at the top of the list of Jura's best espresso machines. It is technically advanced with endless programmable customizations.18.9"D x 12.3"W x 16.3"H80 oz Capacity28 Specialty Drink OptionsFeatures IncludeSmartphone app2 adjustable disc grindersAuto grinder adjustmentOne-touch brewing | De'Longhi Dinamica PlusThe Dinamica Plus is the best you can get from the brand. It has a touch-screen display, user interface, and mobile app accessibility.9.3"D x 16.9"W x 13.7"H100 Milliliter CapacityFeatures Include3.5" One-touch display screenSmartphone appGrinder with 13 adjustable settings3 espresso recipe options |
Main Factors to Consider When Choosing Between Jura and De'Longhi
When it comes to selecting the perfect coffee machine, weighing the options between Jura and De'Longhi requires careful consideration of various factors. By taking a closer look at these key aspects, you can make an informed decision that aligns perfectly with your brewing preferences and lifestyle.
Budget
If you are looking for a budget-friendly brand, Jura is not for you. Jura is significantly pricier than De'Longhi. But if you want to splurge, Jura offers better quality machines that produce the best-tasting espresso. With Jura's quality and De'Longhi's features, you will get plenty out of either brand's machine.
Counter Space
Both brands offer machines of various sizes. If you do not have a lot of counter space, go for an espresso machine that doesn't take up much space, like the De'Longhi EC155.
To be safe, look at the measurements and determine where you want your espresso machine to go before you purchase it so you don't end up in a bind later.
Personal Preferences
What do you want in your espresso maker? Both brands offer features like one-touch display screens, automatic grinders, frothing capabilities, etc.
De'Longhi unquestionably has more features than Jura, which is a positive, but it also means you will have more maintenance and cleaning to do.
Choose a beginner De'Longhi machine or splurge on a Jura if you prefer one that is simple to use.
Consider your preference for the type of espresso drink. If you're a latte lover, a machine that produces top-quality lattes, like the Jura E8, is a great option.
Frequency of Use
Is it just you at home, or does your whole family drink espresso?
It is something to be mindful of because a simple espresso machine that makes a single cup at a time is frustrating if you and your family drink multiple cups daily. In that case, it's best to get a large-capacity espresso maker.
Another thing to consider in frequent use is that it can cause a machine to wear quickly. So if you plan on using it often, get one that can withstand the use.
Our Verdict
Both brands offer durable, user-friendly, feature-filled espresso machines. Purchasing a machine from Jura or De'Longhi will satisfy your cravings, but which one is the superior option?
For quality and durability, our verdict goes to Jura. In this case, the saying you get what you pay for is 100% true. It may hurt your wallet, but once you taste the premium espresso Jura machines produce, you will be happy you took the leap.
When it comes to being budget-friendly, De'Longhi wins. De'Longhi is a high-quality brand that produces great-tasting espresso. Even if it isn't up to the standard of Jura, it's worth the investment.
Which brand is more your style?