Breville has been producing first-rate products since its establishment in 1932. Their espresso machines envelope innovative technology and ease of use. This iconic brand is spread across more than 70 countries worldwide, making it one of the most well-known espresso machine brands there is.
Two of Breville's most sought-after espresso machines are the Breville Oracle and the Oracle Touch. These machines are Breville's top-of-the-line products that produce distinctly delicious espresso. But there are a few key differences to consider when deciding between Breville Oracle vs Oracle Touch.
The Breville Oracle is an automatic machine with an automatic frother but requires a more hands-on approach with temperature and pressure control. The Oracle Touch removes labor with its one-touch screen user interface and automatic frother. It controls temperature, pressure, and the rest of the brewing process without needing direct action from you other than the touch of a button.
Key Differences Between Breville Oracle vs Oracle Touch
| | | |
| --- | --- | --- |
| | Breville Oracle | Oracle Touch |
| Dimensions | 14.7"D x 16.1W" x 17.8"H | 15.7"D x 15.4"W x 17.8"H |
| Materials | Stainless SteelA Few Plastic Parts | Stainless Steel |
| Water Tank Capacity | 84 oz | 84 oz |
| Bean Hopper Capacity | ½ lb | ½ lb |
| Milk Frother | Automatic | Automatic |
| Interface | LCD ScreenButton Control | Touch Screen |
| Settings | Grind ControlOne/Two ShotsOne-Touch Americano OptionHot Water OptionProgrammable Milk Temperature and Texture Control | Grind ControlOne/Two ShotsHot Water Option5 Pre-programmed Coffee Options8 Customizable SettingsProgrammable Milk Temperature and Texture Control |
| Grind Settings | 45 Adjustable | 45 Adjustable |
| Warranty | 2 Year Repair | 2 Year Repair |
Features: Touch vs Non-touch
The design of these machines is very similar except for the display, which is one of the most dominant differences between the two.
The Oracle Touch has a touch screen that allows you to swipe and choose between the five pre-programmed beverages: espresso, cappuccino, Americano, flat white, and latte. You can program up to 8 more customized coffee beverages other than the pre-programmed ones.
Interestingly, you will notice that having five preset programs is lower than the typical number on most super-automatic espresso machines. It is to give you the opportunity to create your own, hence the eight customizable options.
The Oracle has an LCD that does not have programmable options. But you can use the display to adjust the settings for your drink of choice by customizing controls with specific parameters. For example, you can control the milk volume to make whatever beverage you want.
Level of Automation
The Oracle is an automatic espresso machine, but there is a little bit of work involved in the process. If you want something different than a single or double shot of espresso or an Americano, you manually control how much espresso is brewed. You can also manually adjust the milk temperature and texture to accommodate your taste.
The Oracle Touch is a super-automatic espresso machine that does the work for you. You can pre-program the beverage you want and the heat and texture of the milk. Once the settings are programmed, all you have to do is press a button and watch it brew.
Quality and Design.
Both machines have high-quality equipment, but the Oracle Touch is slightly superior to the Oracle. The Oracle Touch has stainless steel double wall housing supported by stainless steel parts. The Oracle, however, has some plastic parts, bringing down the quality a little bit.
The obvious design difference is the screen display, but the two machines have a few other slight differences.
Since the Oracle machine has more plastic parts, it does not look quite as sleek as the Oracle Touch. That is not to say it looks cheap, because it doesn't. It's just a subtle difference that some may have an issue with.
The other difference is color. The Oracle comes in stainless steel only. The Oracle Touch has five color options: Black Truffle, Damson Blue, Sea Salt, Black Stainless Steel, and Brushed Stainless Steel.
For size comparison, both are close to the same size, which is not enough difference to affect counter space.
Flavor
There isn't a noticeable difference in the flavor of espresso. Both machines produce high-quality espresso.
The only differences you may find in flavor are the customizable drink options that come with the Oracle Touch. The Oracle touch does not handle oily beans well, so your espresso may not be as bold as you wish.
Ease of Use
The most user-friendly of the two is the Oracle Touch. You don't need to know how to make espresso beverages because the machine does it for you. The screen is a simple swipe and touch screen that is easy to read.
On the other hand, Oracle is something you program to your liking, which is a little trickier to learn if you have never used an espresso machine. For example, you get to control the frothing texture and temperature.
Cleaning Features
There is no difference in the cleaning features. You need to descale them occasionally, just like any other espresso machine, and clean the removable parts after every use.
Price
For obvious reasons, the Oracle Touch is the more expensive of the two. Being a super-automatic espresso machine means you're getting one with better technology, which costs more.
There is about a $500 difference between the Oracle and the Oracle Touch at the listing price. Both are worth their costs.
Warranty and Customer Support
Both machines come with a 2-year repair warranty. Unfortunately, Breville customer service does not have the best reviews for response time.
Pros and Cons of Breville Oracle vs Oracle Touch
When it comes to the Breville Oracle and Oracle Touch, there are various pros and cons to consider before making a decision. By delving deeper into the details and examining these factors, you can gain valuable insights and make an informed choice that aligns perfectly with your specific coffee brewing preferences.
Breville Oracle
The Breville Oracle is a new barista's best friend. It has customizable controls you can use to make your beverage of choice exactly the way you like. The interface is easy enough to understand for beginners, with simple controls and an automatic frother.
It produces a balanced espresso that comes out rich and smooth. The low-pressure pre-infusion and its 15-bar pump system deliver professional-quality espresso.
It automatically grinds and tamps 22 grams directly into the porta-filter for brewing. Its steam wand is self-cleaning and powered by its boiler. And you control the temperature and texture of the milk.
You can choose the one-shot, two-shot, or Americano one-touch brewing option.
Pros
Simple Controls
For entry-level to expert level
Customizable coffee settings
Automatic frother with temp and texture control
2-year repair warranty
Cons
Requires some manual work
Small learning curve
Plastic parts
Oracle Touch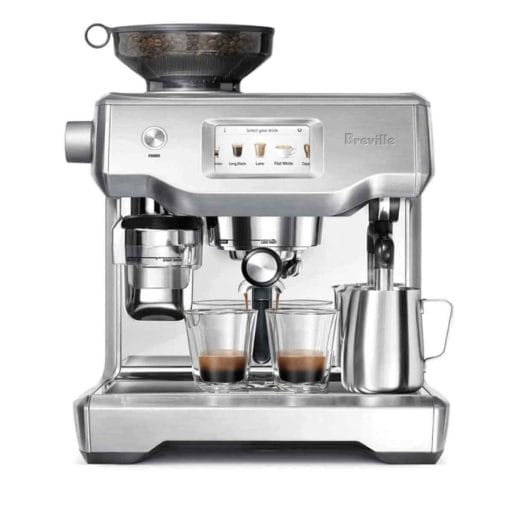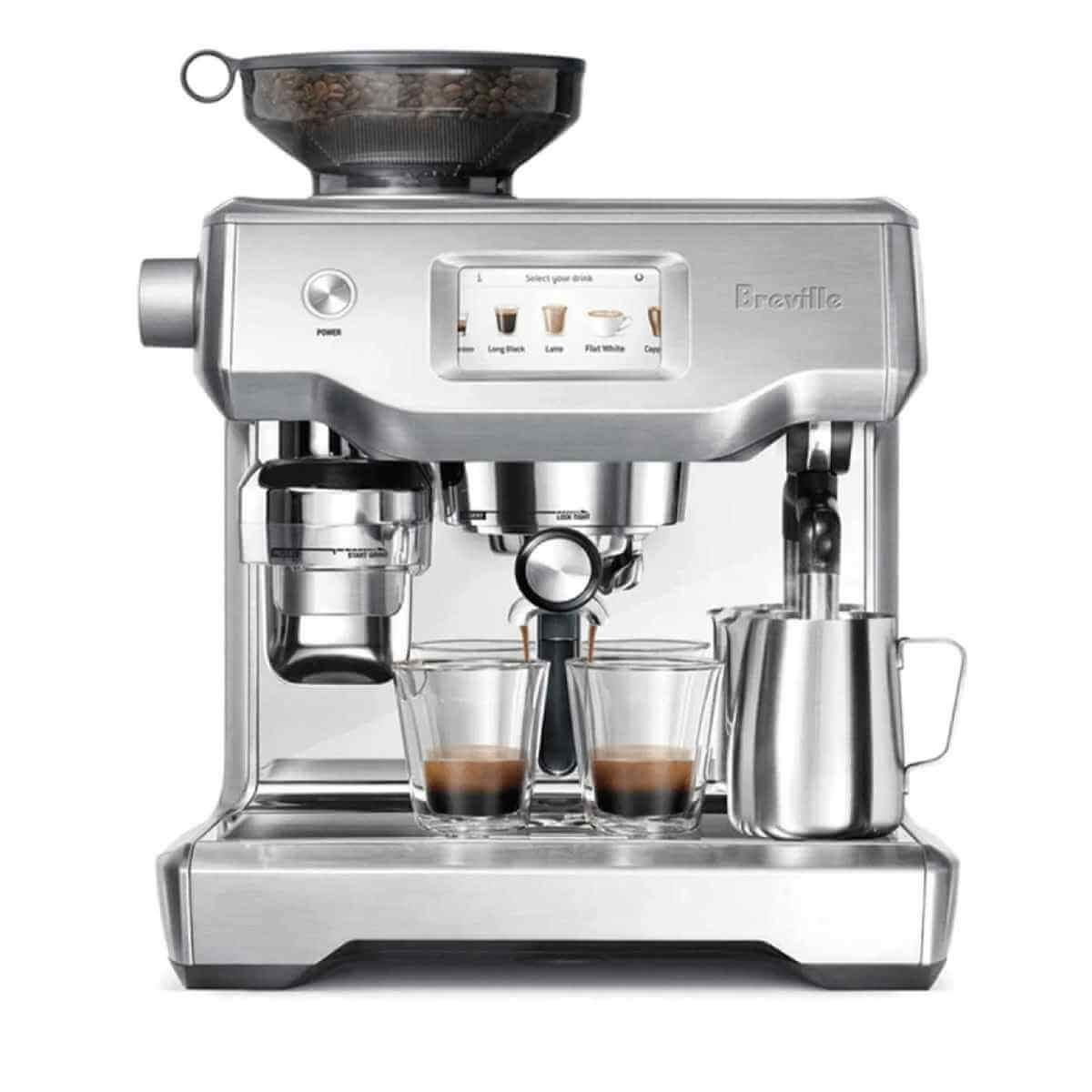 The Oracle Touch is a fancier version of the Oracle, with a touch-screen interface and controls galore. As previously mentioned, it has five pre-programmed controls and eight customizable controls that you can set to make the coffee beverage you crave.
The Oracle Touch produces the same quality espresso as the Oracle, with an irresistible rich flavor and creamy texture. It has an over-pressure valve that regulates the pressure so that the extraction is just right. Just like the Oracle, this machine has a pre-infusion process. The pre-infusion process combined with the pressure control makes for a delicious espresso.
It has an automatic grinding and tamping feature and a micro-foam steam wand that is texture and temperature controlled with the press of a button. It's a great option for entertaining guests or if you have a big family.
Pros
Easy for beginners
Pre-programmed coffee settings
8 Customizable settings
Automatic frother with temp and texture control
Easy to clean
2-year repair warranty
Cons
Replacement filters are expensive
Does not work well with oily beans
Takes time to heat up
Main Factors to Consider When Choosing Between Breville Oracle vs Oracle Touch
When faced with the decision between the Breville Oracle and Oracle Touch, it's crucial to thoroughly evaluate several key factors to ensure you make the right choice that perfectly suits your coffee brewing preferences. By considering these aspects, you can gain a comprehensive understanding of each machine's capabilities and determine which one aligns best with your needs.
Personal Preferences
Do you like to get your hands dirty (figuratively speaking)?
There is something about being involved in the espresso-making process. Satisfaction comes from telling the machine how to brew your espresso – messing with the settings to make it do what you want. If that is you, the Oracle is the perfect choice.
But if you like choices and want to hit a button and walk away or wake up to a latte brewing, the Oracle Touch will take care of the work for you.
What is your preference? Do you prefer doing the dirty work or keeping your hands clean?
Types of Coffee Drinks
The Oracle Touch is overkill for the espresso lover that likes to keep things simple. If you want an easy cappuccino or a straight shot of espresso, there is no need for pre-programmed or customizable coffee drink options. Why spend the extra money on a feature you won't use?
Level of Expertise Needed
Both machines are not too difficult to figure out. You may need a little more expertise when using Oracle because of the manual adjustments. Surprisingly, although it's more technologically advanced, the Oracle Touch does not take much time to figure out. It is the more beginner-friendly of the two. Its swipe-and-press interface makes brewing an espresso beverage uncomplicated and quick.
Our Verdict
The Oracle Touch is certainly appealing with its various customizable options and touchscreen interface. But there is something about the simplicity of the Breville Oracle that puts it at the top.
Sure, it takes a little time to learn the proper adjustments, but that's part of the espresso-making experience, is it not? Don't let a little work intimidate you. You can customize it all day with this machine, making it do exactly what you want.
It's okay if the Oracle Touch is more your style. We still recommend either machine. Their build quality and usability are superb. And most of all, their espresso is flavorful and inviting. Is the Breville Oracle or Oracle Touch better for you?