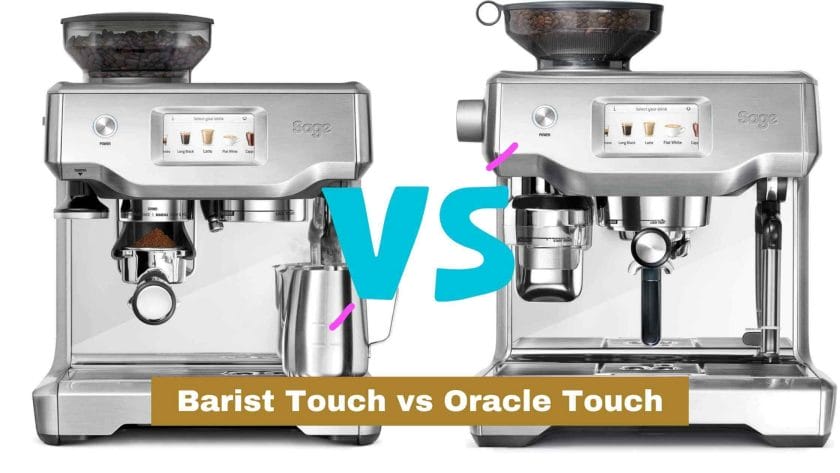 Breville has been developing espresso machines since their establishment in 2002. For many years, they have steadily improved their machines, making them competitors against other top brands in the market.
The Barista Touch and Oracle Touch are two of Breville's high-end espresso machines. They include automatic functions with innovative touch screens that simplify the brewing process.
Each of these espresso machines produces delicious specialty drinks with top-quality espresso, but they are not exactly alike. So how do they differ?
Key Differences Between Barista Touch vs Oracle Touch
| Specifications | Barista Touch | Oracle Touch |
| --- | --- | --- |
| Dimensions | 12.7"D x 12.5"W x 16"H | 14.7"D x 15.4"W x 17.8"H |
| Water Tank Capacity | 67 oz | 84 oz |
| Materials | Brushed Stainless Steel | Stainless Steel w/SS Dual Boiler |
| Milk Frother | Hands-free w/Automatic Cleaning Function | Hands-free w/Adjustable Texture and Temp.Automatic Cleaning Function |
| Bean Hopper Capacity | ½ lb | ½ lb |
| Interface | Touch ScreenPre-set MenuCustomizable Settings | Touch ScreenPre-set MenuCustomizable Settings |
| Grind Settings | 30 Adjustable | 45 Adjustable |
| Features | 5 Pre-programmed Coffee Options8 Customizable OptionsGrind ControlProgrammable Milk Temp and TextureOne/Two Shot OptionsHot Water Option | 5 Pre-programmed Coffee Options8 Customizable OptionsGrind ControlProgrammable Milk Temp and TextureOne/Two Shot OptionsHot Water Option |
| Warranty | 2 Year Repair Warranty | 2 Year Repair Warranty |
Size and Weight
Neither machine is considered compact, but the Barista Touch is the smaller of the two. Its dimensions are 12.7" D x 12.5" W x 16" H. And it weighs 27 lbs.
The dimensions for the Oracle Touch are 14.47" D x 15.4W x 17.8H. And it weighs 37 lbs. So, it takes up more space, which you have to take into account before buying. It's bulky, and not everybody has the counter space to accommodate it.
A size component of each machine that greatly differs is the water tank. The Oracle Touch holds up to 87 oz of water, whereas the Barista Touch holds 67 oz.
The size of the bean hopper is identical for both and holds ½ lb of beans at once.
Milk Frothing
There is a slight difference between milk frothing abilities in these machines and it is in regards to the temperature range and foam level options.
The Barista Touch has a temperature range of 113°F-167°F and has eight foam levels. The Oracle Touch has a range of 104°F-112°F and has nine foam levels.
Both machines allow you to adjust the temperature by small increments and adjust the texture settings so you can enjoy your beverage with any level of foaminess.
Coffee Grinder
The coffee grinder on each machine is superb, but their operation has a couple of differences.
The Barista Oracle has 30 grind settings controlled by a timer. It's up to you to set the grind time and size, so it requires learning which setting makes the right strength of espresso for you.
The Oracle Touch has 45 grind settings and the fabulous feature of automatic tamping, so you have one less thing to worry about. Once you choose your setting, the machine will tamp it perfectly.
The number of settings and automatic tamping are the main differences here. It mostly comes down to how many settings you need. Many people won't use 45 or even 30 grind settings, but automatic tamping is a tempting feature.
Boiler
The Barista Touch has a single boiler coupled with a ThermoJet heating system. There is a wait time between brewing and steaming, but the advanced heating system makes that wait time pretty short compared to machines without it.
The Oracle Touch has dual boilers so that your coffee can brew at the same time as you steam your milk. The boilers take a little bit of time to heat up, but once they are heated, the process is quick. You can set up your machine to turn on at a specific time so it is ready to brew by the time you go to have your first cup.
Over Pressure Valve
This pressure valve is a notable difference between the two machines. The Oracle Touch comes with this special valve that limits the amount of pressure used during the extraction process.
Too much pressure can cause your espresso to taste burnt and bitter. By limiting the pressure to no more than a 15-bar pump, the Oracle Touch keeps that from happening.
The Barista Touch does not have this feature, so you have to make the needed adjustments.
Pros and Cons of Barista Touch vs Oracle Touch
When comparing the Barista Touch and Oracle Touch espresso machines, it's important to weigh the pros and cons of each. Both models offer advanced features and capabilities that cater to coffee enthusiasts, but they also have their distinct advantages and disadvantages.
Barista Touch
The Barista Touch is a user-friendly Breville espresso machine that produces a deliciously flavorful espresso.
It has a ThermJet Heating system that decreases the heating time and transitions between brewing and steaming. So you can sip your coffee quicker.
Its integrated burr grinder has 30 precision grind settings to mess with until you find the right setting for your espresso. The grinding is hands-free, and the dosing is programmable, so you can have espresso to taste. Putting in the portafilter is the only work you have to do.
This espresso machine has an easy-to-use touchscreen with lots of programmable beverage options. Its pre-programmed options include drinks like Americano, Cappuccinos, Flat White, and Latte.
The adjustable parameters of the Barista Touch make it easy to customize your coffee drink just how you like it, and its automatic milk frother produces smooth and foamy milk, making you a gourmet beverage every time.
Pros
Touch Screen
30 Grind Settings
Automatic Frother
Easy-to-use
Customizable Settings
Cons
The steam wand is messy
Smaller water tank
Oracle Touch
The Oracle Touch has a few more advanced features than the Barista Touch. One of its advanced features is the dual boilers, which brew and steam simultaneously. Once the system is heated, the boilers work together to save you brewing time.
Another feature improvement is the automatic tamping, which makes things less messy and more precise. It's difficult to know the right tamping settings, so it's helpful when your espresso machine does this automatically.
It includes the same eight customizable, programmable features as the Barista Touch, including the five pre-programmed settings.
Something the Oracle Touch has that the Barista Touch doesn't is an over-pressure valve, which limits maximum pressure to 15 bars so that your espresso does not end up tasting burnt.
If you often entertain guests, this espresso machine comes in handy, since its water tank capacity is significantly larger in comparison to the one on the Barista Touch.
Its frother is automatic with self-cleaning, and its user interface is easy to use and understand.
Pros
Easy-to-use interface
Automatic tamping
Customizable settings
Over-pressure valve
Good for entertaining guests
Self-cleaning
Cons
Large size
It takes time to heat up
Barista Touch vs Oracle Touch Main Factors To Consider
When deciding between the Barista Touch and Oracle Touch espresso machines, there are several key factors to consider that can help you make a more informed decision.
Personal Preferences
Drink preferences won't make a difference when comparing the Barista Touch and Oracle Touch because they offer the same pre-programmed and customizable options. They are so close in make-up that you won't taste a difference in the quality of espresso either.
Where your personal preference comes in with regards to these machines is size. Since the Oracle Touch is significantly larger than the Barista Touch, you must weigh the features against the size to decide which one you prefer for your home. Or measure your counter space and choose the one that fits best, barring you having no price limitation.
Level of Expertise Needed
The good news is that both models require little expertise to operate. Customizing your specialty drinks may take some time, but the process is not particularly difficult.
The Barista Touch requires some knowledge of tamping and adjusting the grinder to the correct setting according to your taste, since it is not a completely automatic function.
Budget
The price difference between these two machines is pretty significant. The Barista Touch is just over $1,000, which is affordable for a high-end espresso machine that has nearly everything you could want.
The Oracle Touch is not far from $3,000, which is a big jump in price. It's probable due to added features like the dual boiler system and automatic tampering, to name a couple.
Replacement Parts
Not many people think of replacement parts when buying a new espresso machine, but there is always a possibility of a defect or something breaking down the line.
Sometimes, replacement parts can be just as expensive as buying a new espresso machine. Knowing what you're getting yourself into ahead of time will prepare you for what is to come and how much you may have to spend to replace major components of your machine.
Of course, you don't have to worry about spending money if you are within the warranty parameters because the parts will be covered, but there is also a warranty limitation.
Replacement parts for the Oracle Touch are pricey, which is not surprising considering the cost of the machine. Replacement parts for the Barista Oracle are reasonably priced.
Breville machines are high-quality, so replacement parts aren't a big concern, but something to be mindful of before you make a decision.
Our Vertict
You can't go wrong choosing the Barista Touch or the Oracle Touch since they are both from Breville, a brand known for producing quality products.
But there's an indisputable fact that the Oracle Touch is very expensive. And the two machines aren't very different from each other.
The Oracle Touch has technological improvements that the Barista Touch doesn't, but you can't find a machine as good as the Barista Touch for that type of price everywhere you look.
We are going with the Barista Touch in this comparison. The price for the quality is too good to pass up, and it works just as well as the Oracle Touch.