Our website is reader-supported. If you buy through the links in this post, we may earn a commission.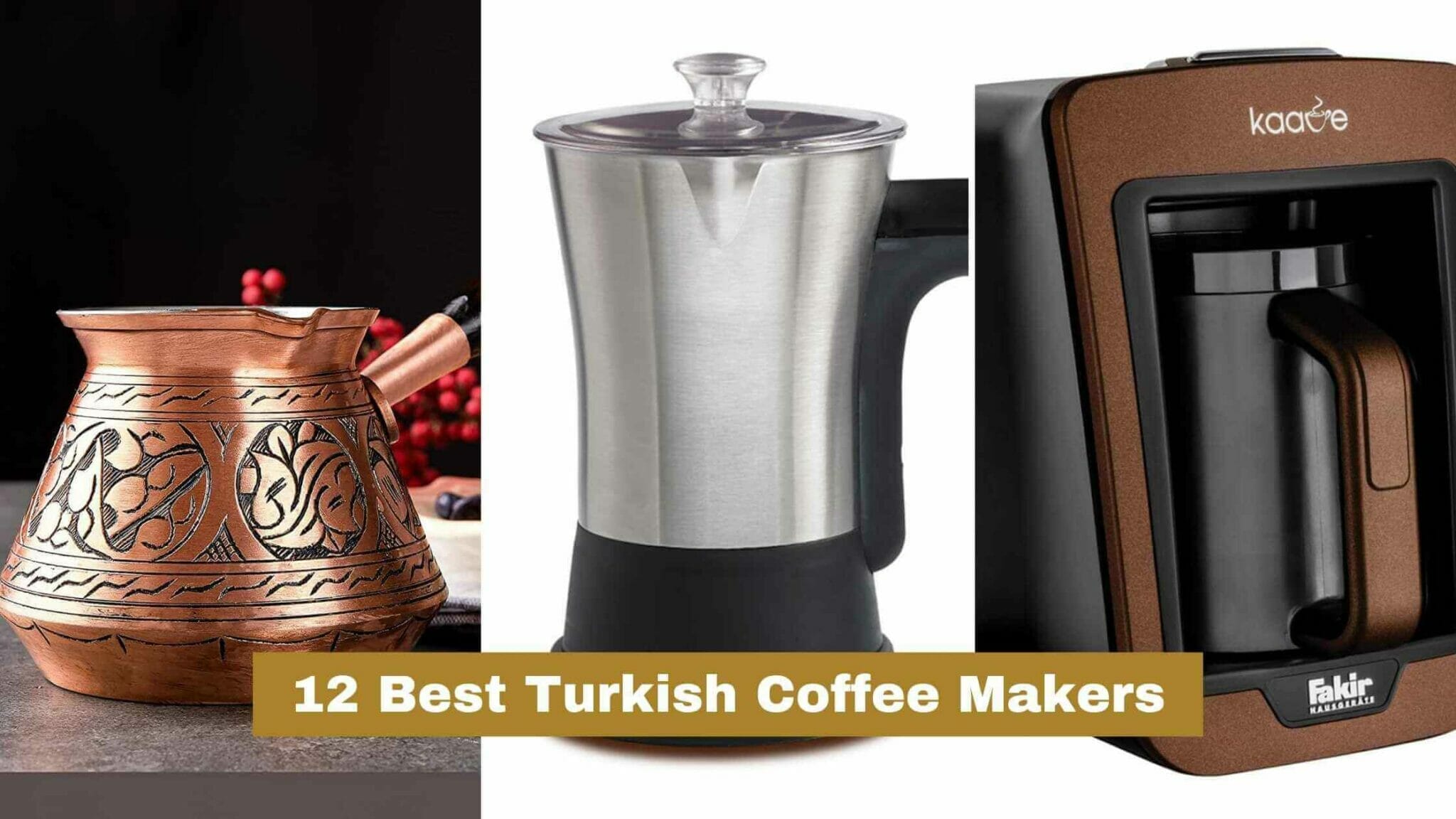 Based on a recent study, Turkish coffee pot sales in North America are forecasted to increase steadily from now until 2030. This statistic is a result of the climbing trend in Turkish coffee consumption in the United States, among other countries.
Turkish coffee is unlike any other type of coffee in the world due to its unique characteristics and uncommon brewing method. Because Turkish coffee consumption has rocketed, so have the sales of Turkish coffee makers. But, what are the best Turkish coffee makers?
From stovetop coffee pots to electric makers, there is a diverse selection of Turkish coffee makers that will aid you in beginning your journey as a Turkish coffee drinker.
| | | | |
| --- | --- | --- | --- |
| Best Electric | Brentwood Electric Turkish Coffee Maker | Stainless steel electric coffee maker, perfect for brewing 10 oz of Turkish coffee in minutes. Featuring boil dry protection and a compact, travel-friendly design. | See Product |
| Best Turkish Coffee Pot | Volarium Turkish Coffee Pot | Handmade copper Turkish coffee pot, featuring an engraved body and brass handle. Suitable for gas or electric stoves, it's perfect for brewing and serving your favorite Turkish coffee. | See Product |
| | Beko Electric Turkish Coffee Maker | Featuring cooksense technology, automatic brewing, and a 2-cup capacity. Made with 100% BPA-free materials, it's easy to clean and simple to use. | See Product |
| | Saki Electric Turkish Coffee Maker | Unique ember cooking function.With cooksense technology, automatic shut-off, and a touch-button design, effortlessly brew 4 cups of coffee in two size options. | See Product |
| | Arzum Okka Electric Coffee Machine | Stylish stainless steel coffee machine. Brew 1-4 cups of Turkish coffee effortlessly with an auto-shutoff feature and an easy-to-clean washable pot. A compact design saves counter space too! | See Product |
What is Special About Turkish Coffee?
The first step to finding the best Turkish coffee maker is understanding why you should get one in the first place. If you want an authentic experience, knowing the characteristics of Turkish coffee is a must.
The brewing method is a significant part of the Turkish coffee experience. The finely ground beans are mixed with water and heated until almost boiling. Once the coffee is brewed, it is poured into a cup, coffee grinds and all.
It may sound strange, as it is not a process most Americans are used to, but this Turkish tradition goes back hundreds of years. Leaving the coffee grounds in the cup creates a strong aroma that lures you to sip on the intense Turkish coffee and consume the energy-boosting caffeine.
An added benefit of Turkish coffee, since it is so finely ground, is the natural, healthy acids that come from the coffee beans. These healthy acids help inflammation, cholesterol, blood sugar, and high blood pressure.
Brewing and consuming Turkish coffee has benefits you can't ignore, so why not try it?
The 12 Best Turkish Coffee Makers
You need a quality Turkish coffee maker to achieve an authentically tasty cup of Turkish coffee. The list below simplifies your options so you can have a brewed cup of this flavourful coffee in no time.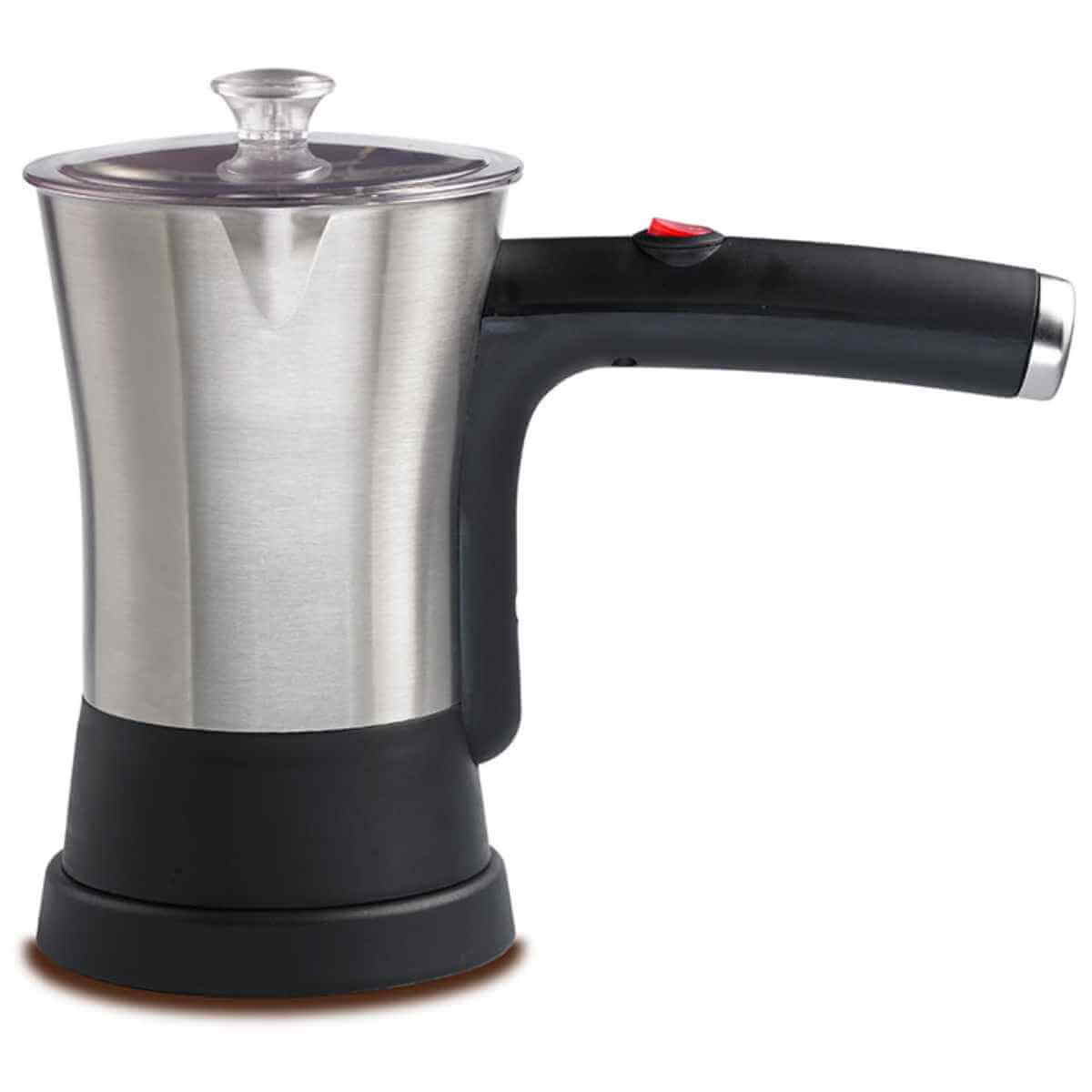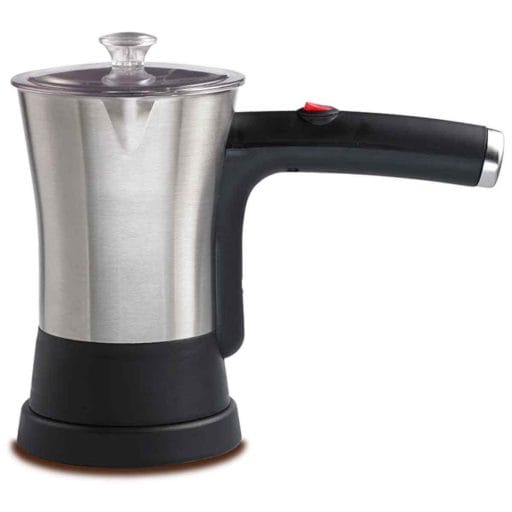 This stainless steel electric coffee maker is a practical choice because of its simplicity and convenience. This coffee machine will produce 10 oz of Turkish coffee in a few minutes. Just add coffee grounds and water, and turn it on.
This coffee maker has a boil dry protection shut off. Once the pot senses no liquid, it automatically shuts off.
This electric coffee maker is small and durable enough to take along when you travel, so you don't have to miss it when you're away from home.
Pros
Low cost
Easy to use
Dry protection shut off
Travel friendly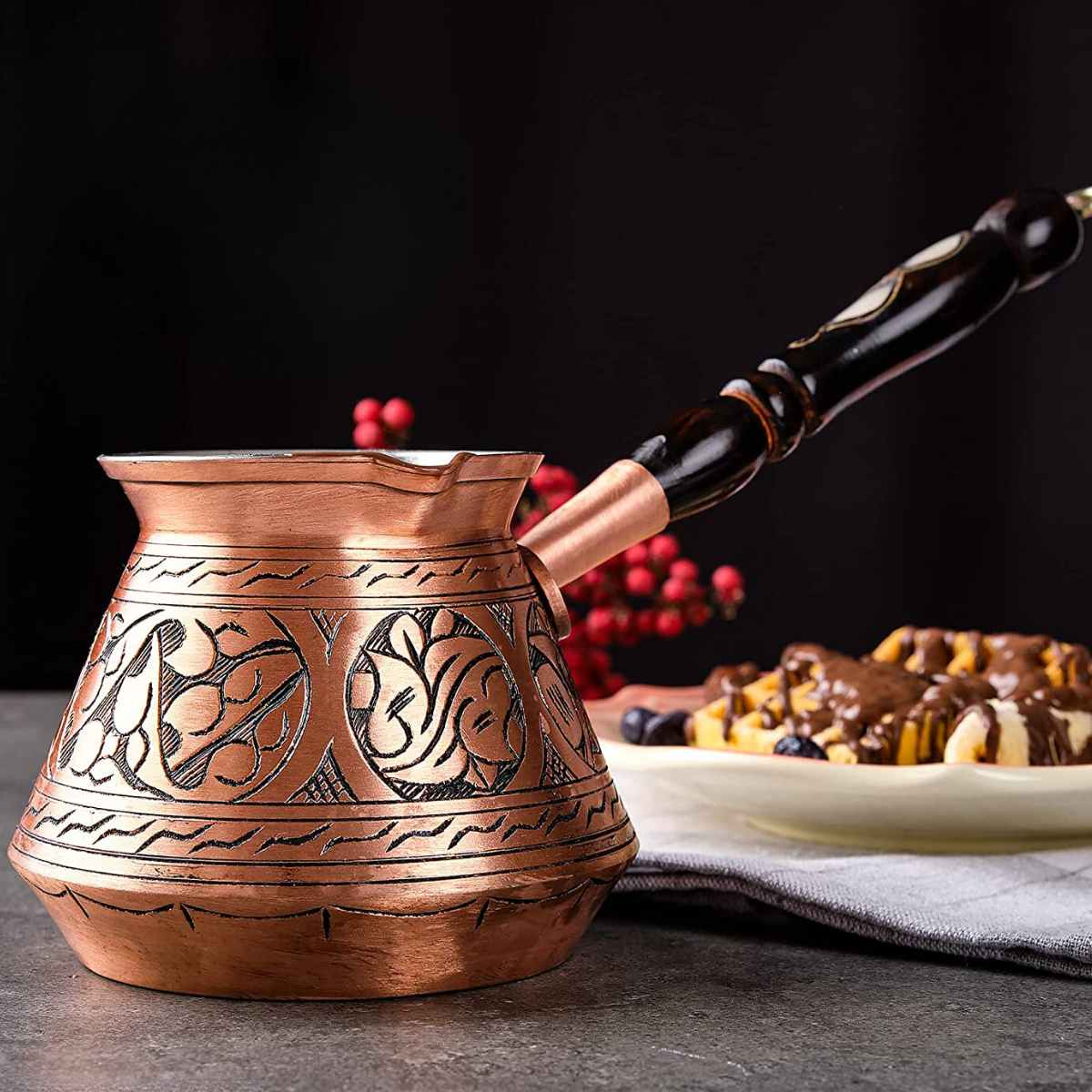 This charming Turkish coffee pot is handmade out of thick copper. It has an engraved copper body and brass handle.
This Turkish coffee pot is a traditional style and can be placed on a gas or electric stove to bring the water and coffee grinds to a boil. Once your coffee is brewed, all you have to do is pour and serve.
Pros
Handmade
Made with premium material
Easy to use and clean
Easy to store
This brown and black electric Turkish coffee maker is a stylish choice for your home.
It has a 1-liter capacity, which means you can make enough coffee for yourself and your guests. Its features include an automatic shut-off and a cup warming area.
You can find this coffee maker in many different colors.
Pros
Large capacity
Automatic shut off
Cup warming area
Cons
No option to make smaller portions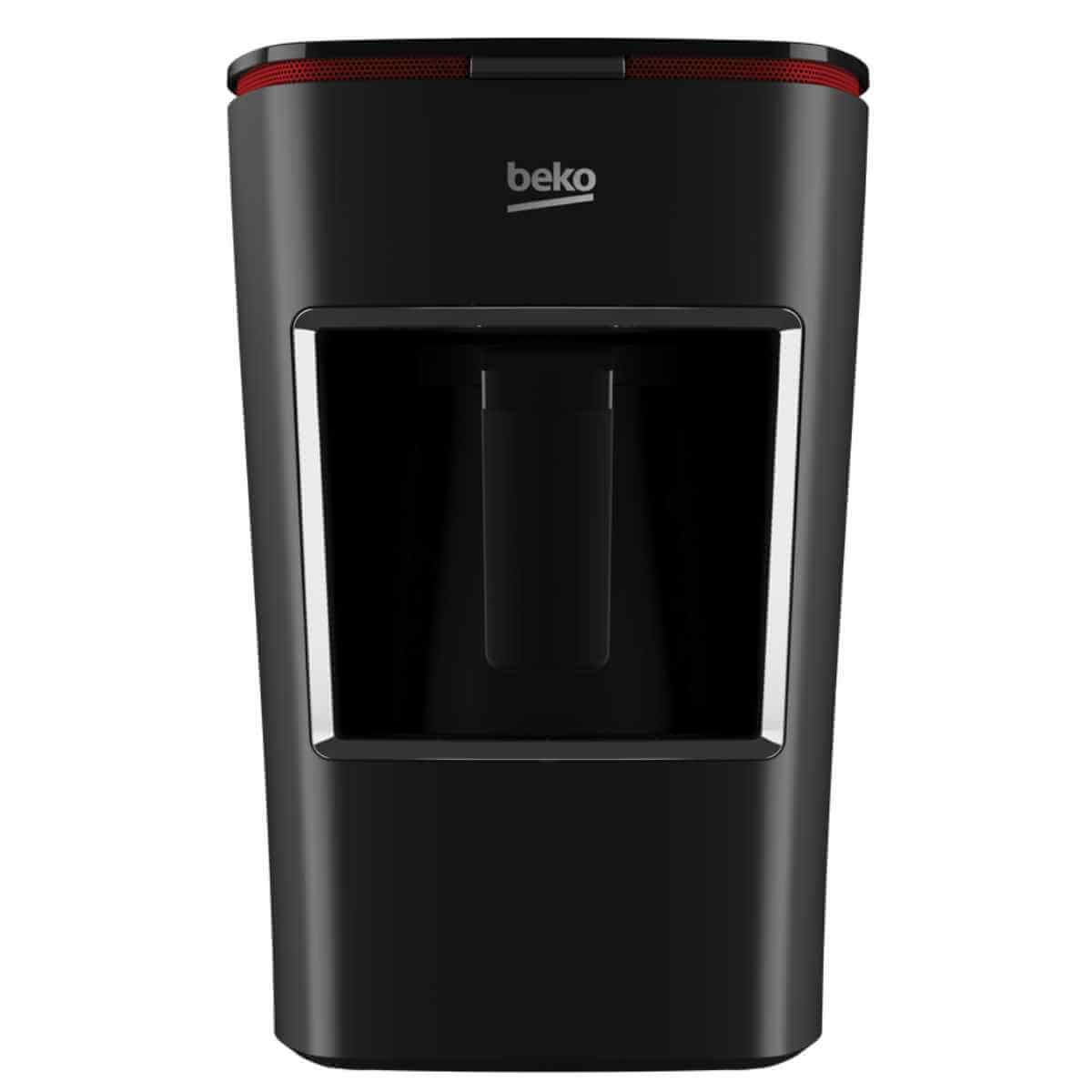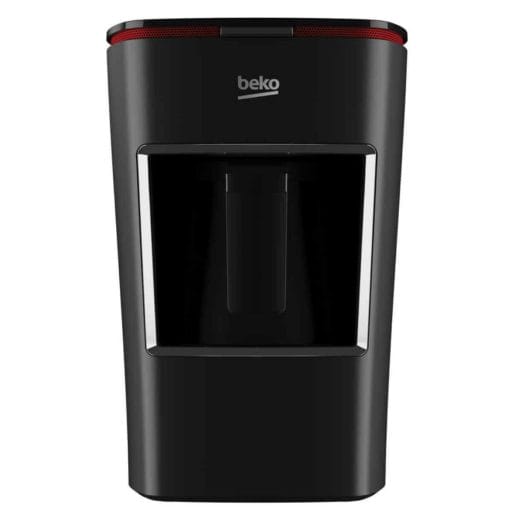 The Beko Turkish coffee maker has cooksense technology that delivers consistent results every time.
Although it's automatic, it brews like a traditional Turkish coffee pot, keeping it at the perfect temperature. It brews 2 cups of coffee in only a few minutes.
This coffee maker has 100% BPA-free materials. It is easy to clean and simple to use.
Pros
BPA free
Advanced technology
Traditional brew
Easy to clean
Brews delicious coffee
This coffee pot is another handmade pot with beautiful engraved detail. You have three color options: Copper, Antique Copper, and Matte Copper.
Because it consists of 2mm thick copper, it is one of the most durable Turkish coffee pots you can find. It comes with a handmade wooden handle and spoon to complete the set.
You can brew nine fluid ounces or 3 cups of Turkish coffee.
Pros
Pure copper
Three color choices
Makes 3 cups
Handmade
Extremely durable
Cons
Inside can rust if not properly cared for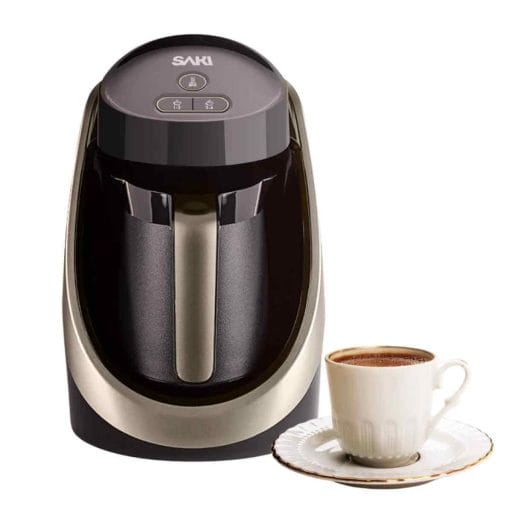 The Saki coffee maker has cooksense technology to keep your coffee from boiling over. It has automatic shut-off sensors that shut the machine off when the foam is at the right level.
A unique feature of this machine is the ember cooking function that doubles the foam and delivers the taste you would get if you brewed it on sand or ember.
This coffee maker brews your coffee with the touch of a button. It takes a few minutes to brew 4 cups of coffee and has two size options.
Pros
Advanced shut-off technology
Ember cooking function
Easy to use
1-2 or 3-4 cup options
Cons
Not easy to clean in grooves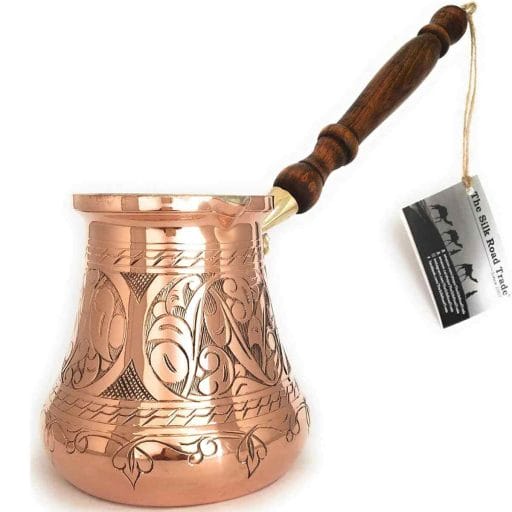 This coffee pot is another handmade copper pot with detailed engraving. It has an authentic copper body with non-reactive tin for the lining. The copper used to make it is the thickest copper available, giving it maximum durability.
You can purchase this pot in 3 sizes: Small, Large, and XX-Large. When full, the largest of the three can hold up to 28 ounces.
You can use this pot on a gas or electric stove or with hot sand.
Pros
Handmade
Thick copper body
Non-reactive tin lining
Three size choices
Cons
Have to be diligent with the cleaning process
The Caizon Turkish coffee pot is a great choice for those who want to spend a little less time taking care of it. It is stainless steel, which eliminates the chance of rusting.
This coffee pot will last many years. It is an alluring piece that can serve as decoration when not in use and will look good in any home.
The handle is designed so that it does not conduct heat and can be picked up without the risk of a burn.
Pros
Stylish for any home
Stainless steel
Will not rust
Handle stays cool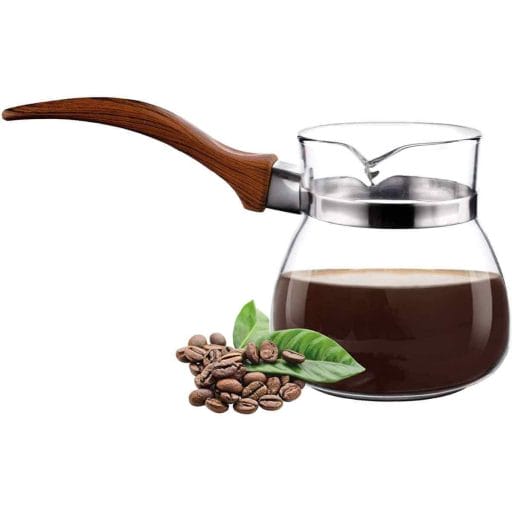 This coffee pot is a bit different. Instead of copper or steel, this coffee pot is made of high-quality European glass. This type of glass is heat resistant and does not absorb harmful chemicals.
It is 5 inches tall and has a capacity of 25 ¼ oz. Although it is large, it is lightweight. It comes with a plastic handle for easy lifting and pouring.
Pros
Large capacity
Lightweight
Heat-resistant glass
Non-conductive handle
Cons
Handle could be more secure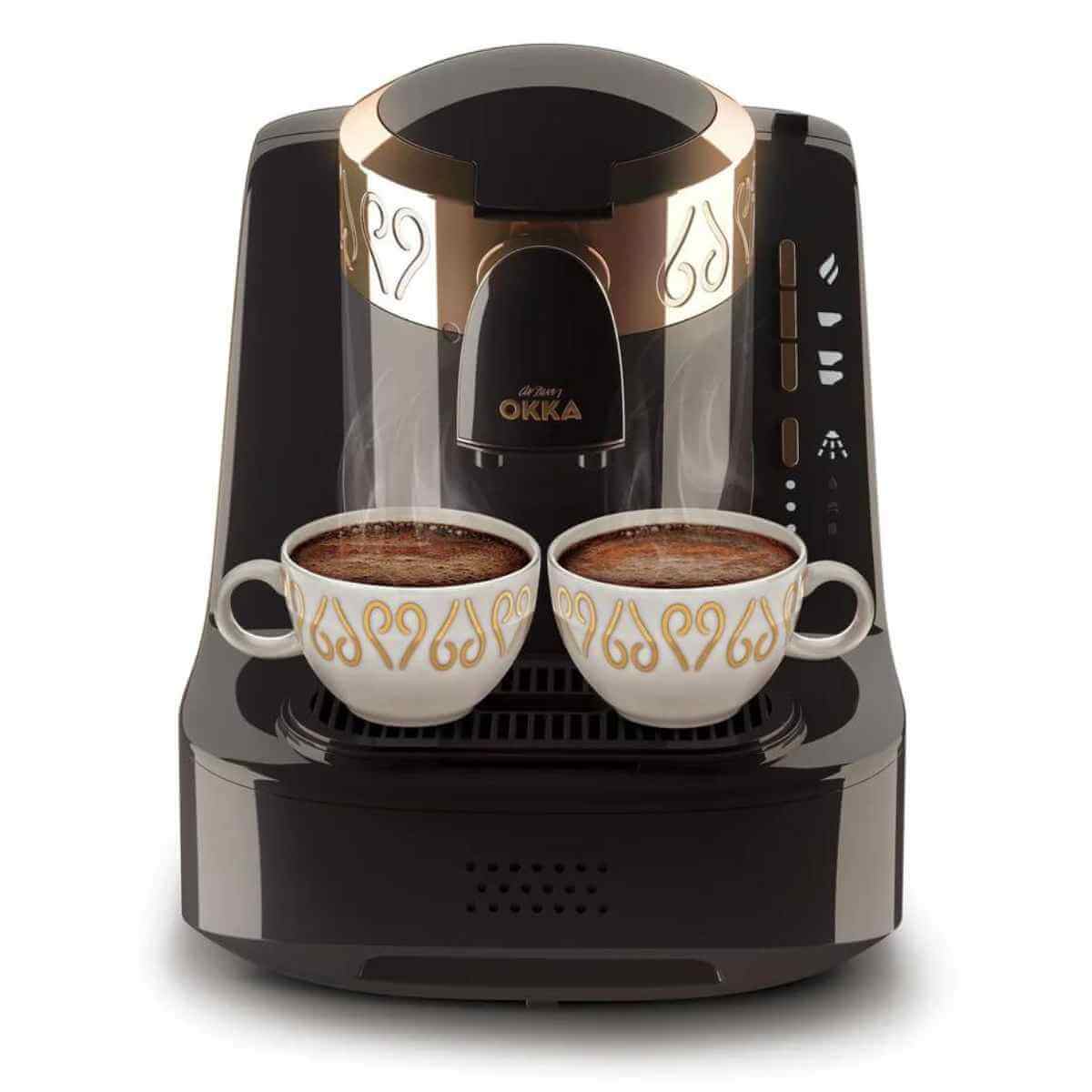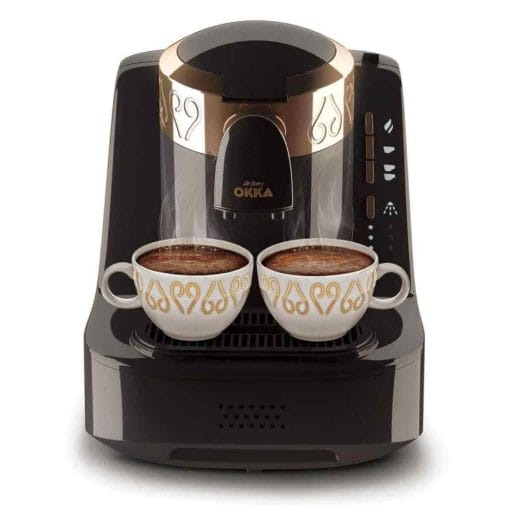 The Arzum Okka coffee machine is made of stainless steel and has a black and gold design. It has a capacity of 1-4 cups of Turkish coffee.
With the auto-shutoff feature, there is no risk of your coffee overflowing. The pot is washable and easy to clean. The entire system is small and doesn't take up much counter space.
Pros
Stainless steel
1-4 cup capacity
Washable pot
Doesn't take up much counter space
Cons
On button could be easier to push
This high-quality stainless steel coffee pot is an ergonomic design that keeps the handle cool and allows for easy pouring with its non-drip spout. Because it is 1mm thick stainless steel, it will not oxidize.
Its capacity is 15.2 ounces and can be heated on an electric or gas stove. However, it cannot be used on an induction stove.
Pros
Durable stainless steel
Ergonomic design
Non-drip spout
Easy to use
Cons
Cannot be used on induction stove
Spout could be bigger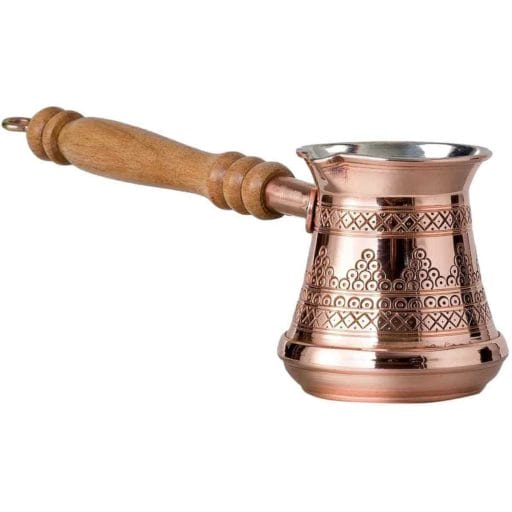 The list wouldn't be complete without a gift set. This beautifully engraved gift set has a tray, 2 cups, 2 saucers, a sugar bowl, and a Turkish coffee pot.
It is the perfect set to use when you have guests or to give as a gift to a friend or family member you want to share your love of Turkish coffee with.
The set also comes with a pack of Turkish coffee.
Pros
Full-set
Aesthetically pleasing
Great gift
Quality material
Cons
Must be dried immediately or will rust
If you want to go the electric route, go with the Brentwood Electric Turkish coffee maker. It is the best option because it is small, durable, easy to use, and travel-friendly.
If tradition is more your style, the Volarum Turkish coffee pot is the ideal choice. It is made of quality copper and is easy to use, clean, and store.
Turkish Coffee Makers Buyers Guide
Electric Coffee Maker Vs. Stove Pot
How do you know which one to choose? They both have their own benefits, but which one is best? It all depends on experience and preference.
It can take a few tries to succeed when using a stove pot. Knowing how to use the heat and keep the coffee from overflowing is tricky until you are used to the process.
Electric coffee makers do the work for you. There is no guessing when you have an auto-shut-off feature.
If you are a beginner, it might be best to go with an electric pot unless you want to learn how to use a stove pot through trial and error.
But some people like a challenge. If that's you, go for it!
Pot Capacity
How much coffee do you drink? Do you have guests often? These are good questions to ask when you're considering what size pot you want.
Electric and stove pots come in many sizes, so you will find one that serves your needs.
Materials
Traditional stove pots are made of high-quality copper. Copper needs more attention when being cleaned compared to other metals like stainless steel.
Stainless steel is much easier to clean but has a simple look that may not appeal to some.
You will find some copper pots that have brass handles. They are durable and aesthetically pleasing, but get hot easily, which is something to keep in mind.
Other handles may be plastic or wood, which work well against heat.
Glass is another material used for stove pots. It works well but is not as durable as copper or stainless steel.
Most electric coffee makers are stainless steel and other heat-resistant materials, so you don't usually have to worry about burning yourself with electric makers.
Price
A great thing about Turkish coffee pots, electric or stove, is that you can find excellent quality makers or pots for low prices.
Sometimes it's better to spend the extra money if you want something with more features or that is extra durable, but it isn't always necessary.
Turkish coffee pots and makers have much lower prices than many other coffee makers.
Why Invest in a Turkish Coffee Maker/Pot?
There is a reason sales are projected to steadily increase over the next few years. Turkish coffee is brewed differently, it's consumed differently, it's delicious, and its benefits are getting people's attention.
It gives you the ultimate caffeine boost and includes healthy acids that come through as the coffee grinds sit at the bottom of your cup.
Take the next step and get yourself a Turkish coffee maker or stove pot. The aroma, the taste, and the benefits are waiting for you. Which one on the list stood out to you?