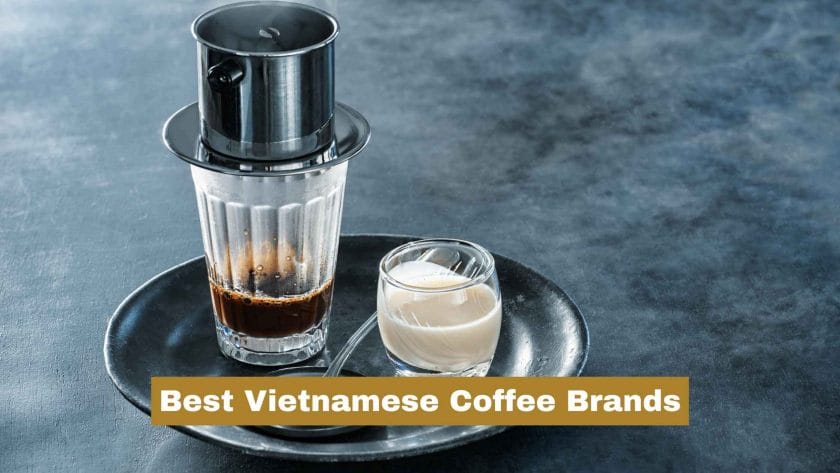 Vietnamese coffee production was first set in motion in the 1800's when the French brought over the first coffee tree, the Arabica tree. It was then discovered that the Vietnamese Highlands had the perfect climate for growing coffee beans.
Once the 1900's rolled around, Vietnam was producing the coffee bean they are most known for – the Robusta bean. Since then, Vietnamese coffee exports have exploded, making Vietnamese coffee one of the top-selling coffees worldwide.
The 8 best Vietnamese coffee brands embody an intense flavor in every sip and a perfect espresso crema with every brew. But these aren't the only reasons Vietnamese coffee is desired.
Why is Viet Coffee So Good?
A variety of factors contribute to the quality of coffee, and Vietnamese coffee shows some specific characteristics due to factors such as:
Taste and strength
Flavor profile
Brewing style
Taste and Strength
The Robusta bean is at the center of why Vietnamese coffee is so delicious. The prominent taste it offers is far beyond any other type of coffee bean. You haven't tasted strong coffee until you've tasted Vietnamese coffee.
But strong coffee isn't defined by just its taste. When you want strong coffee, you usually expect a decent amount of caffeine in every cup.
There is no shortage of caffeine in Vietnamese coffee. The Robusta bean is known for containing a higher percentage of caffeine compared to its competitor, the Arabica bean.
With a strong taste and tons of caffeine, you'll wake up in no time after sipping on a cup of Vietnamese coffee.
Flavor Profile
Each Vietnamese coffee brand has its own flavor profile. Creating a flavor profile involves adding flavors such as cocoa, vanilla, sugar, etc., to cut the bitterness of the Robusta bean without ruining the taste.
You will also find that many Viet coffees contain a blend of Arabica and Robusta bean, with the Robusta bean used as the primary.
Being a full-bodied coffee, the integration of various flavors and coffee types gives the robust taste of Vietnamese coffee a more rounded flavor.
Brewing Style
Vietnamese coffee is brewed differently than other coffees. Using what's called a phin filter, this coffee is brewed using a pour-over, slow-drip method. The time it takes to brew the coffee using this method is what gives it that lasting punch your taste buds crave.
8 Best Vietnamese Coffee Brands
1. Trung Nguyen Vietnamese Coffee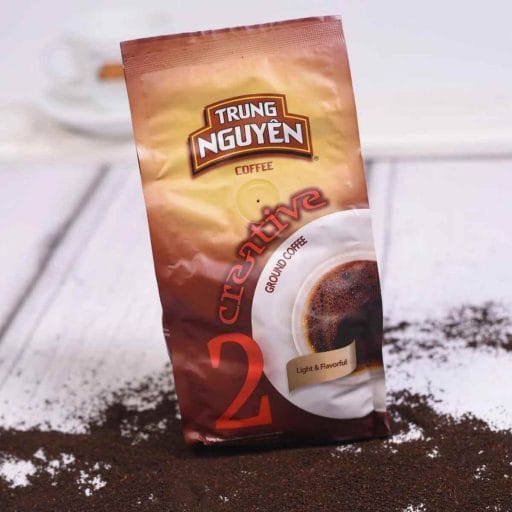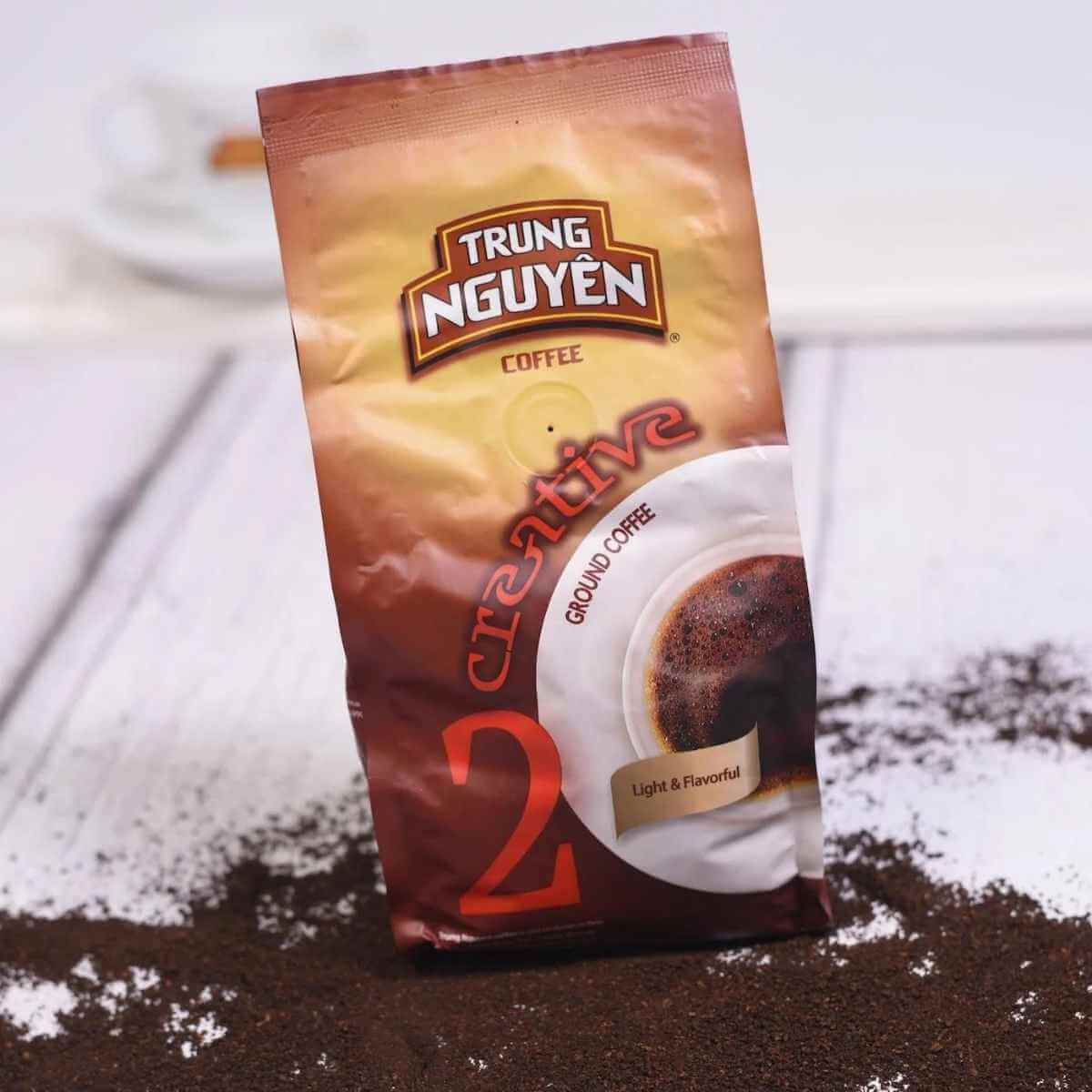 A few years shy of 30, this brand is one of the most famous brands of Vietnamese coffee. Trung Nguyen coffee offers a spectrum of Vietnamese coffee.
A common choice among Viet coffee lovers is their Premium Blend Ground Coffee.
This medium roast blend offers low acidity and a bold taste with subtle notes of chocolate. It's smooth consistency, and strong aroma will leave you wanting a second cup.
Pros
Low acidity
Notes of chocolate
Smooth
Comes already ground
Cons
Brewing may stall
Not as fresh as whole beans
Includes some artificial flavors
2. Vinacafe Instant Coffee
Instant coffee is usually a bit lackluster when it comes to taste, but Vinacafe Veit coffee is one that stands out from other instant coffees.
Other than the ease of brewing, Vinacafe delivers a sweet and creamy flavor with sugar and milk already mixed in with the coffee.
Vinacafe is a great way to have coffee on the go, whether you're camping or just enjoying the convenience of it during your travels.
Pros
Convenient
Sweetened
Low Acid
Travel Friendly
Cons
Not for those who like black coffee
May be too sweet for some
3. Saigon Phin Daklak – Lang Thang Coffee
Lang Thang is one of the newer Viet brands, but popular nonetheless. Their signature blend, Saigon Phin Daklak, is regularly in demand.
This pre-ground blend contains arabica, peaberry, robusta, and soy coffee beans, a combination that makes the flavor of this coffee stand out.
With a smooth texture and a whisper of sweetness, it goes down with ease.
Pros
Unique blend
Slight sweetness
Smooth texture
Even taste
Cons
Artificial flavoring
Possible undesired aftertaste
4. ChestBrew Whole Bean Coffee
Another recently established Vietnamese coffee brand, ChestBrew Coffee Company, has made its way up the ranks in the Viet coffee industry since it was established in 2016.
Since you grind your own ChestBrew beans at home, you are guaranteed a truly fresh cup of coffee every time.
Their MoonBear Whole Bean Coffee is a bold, dark roast coffee bean that hits the spot without overwhelming bitterness.
You can enjoy this coffee hot or as a cold brew.
Pros
Bold flavor
Delivers a fresh cup every time
Can have cold or hot
No artificial flavors
Cons
Flavor is too simple for some
Not enough kick
5. Dalat Highlands Robusta Whole Bean Coffee – Lens Coffee
Lens Coffee Company produces a diverse selection of medium roast Viet coffee, all of which are flavorful, full-bodied blends.
Their Dalat Highlands Robusta coffee has a polished, chocolatey taste with low acidity and a high caffeine content.
Using Robusta beans from a specific part of the Highlands, Lens Company supplies quality beans in every bag.
Pros
Premium robusta beans
Smooth, chocolatey taste
High caffeine content
Cons
Lacking richness
Slightly weak
6. Copper Cow Coffee
Copper Cow Coffee offers something unique. Their coffee comes with a disposable phin filter along with everything you need to make the perfect latte.
Their coffee packages have easy instructions on how to make a latte with their premium Viet coffee.
Just like Vinacafe, Copper Cow Coffee is easily portable.
You can find this portable coffee in flavors like vanilla, caramel, churro, and lavender.
Pros
All-in-one latte packaging
Many flavors
Easy instructions
Travel friendly
Cons
Mild taste
Amount of water needed not listed
7. Robarica Robusta Coffee
Created by a Vietnam native, Robarica coffee embodies all the good things that come from combining arabica and robusta beans.
This dark roast coffee is made of 100% pure, ground coffee beans. The flavor profile includes an earthy taste with notes of chocolate and a bit of nuttiness.
The caffeine content will give you a notable energy boost.
Pros
Pure coffee grounds
Strong in taste and caffeine
Chocolatey notes, nuttiness
8. Bach Vietnamese Coffee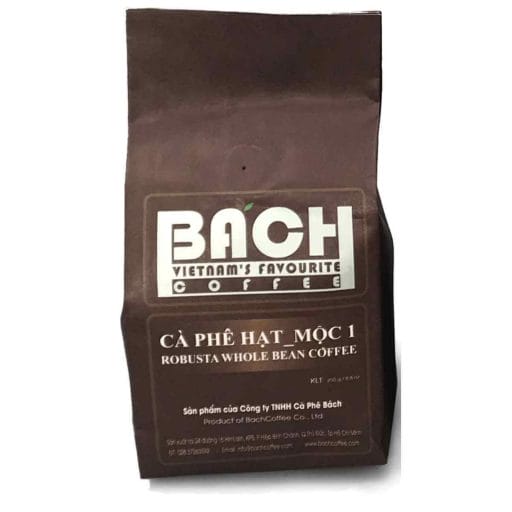 Grown in the Vietnamese Highlands, Bach Vietnamese coffee produces Grade A coffee beans.
These beans have a smooth, chocolatey taste and low acidity. They are air-roasted to produce a pure, medium-roast coffee bean.
Once ground, you will be able to taste this full-bodied coffee and all of its richness.
Pros
Fresh, grade A whole beans
High caffeine content
Smooth with low-acid
Vegan
Cons
Mild strength
Beans are a little dry
Vietnamese Coffee Buyers Guide
To help you navigate Vietnam's vibrant specialty coffee scene, I've put together this handy buyer's guide so you can enjoy delicious Vietnamese coffee from home in no time.
Type
The type of Viet coffee you buy comes down to your preference. Are you constantly on the go and need a quick, easy yet delicious cup of coffee? If so, your best option is Viet instant coffee.
Do you prefer a truly fresh cup of coffee? Whole-bean Viet coffee that you can grind at home is the way to go.
If you don't want the hassle of grinding your own beans but want a delicious cup, you won't go wrong with pre-ground Viet coffee.
Blend
Every great brand has its own signature blend. Some come with primarily Robusta beans, making their blends bold in flavor. Other brands use a mix of Robusta and Arabica beans, giving their blends a milder taste. Some add a few more types of coffee beans to the mix to create a complex flavor profile.
If you want a notably strong coffee, stick to the brands that offer pure/near-pure robusta beans.
For a mild coffee, choose an even mix of arabica and robusta beans.
And for a complex coffee, pick the brand that packs in a ton of flavors with a few different types of coffee beans.
Price
Some Vietnamese brands can be pricey. However, just because you spend a lot on a product doesn't mean you are getting what you want. Part of choosing the right brand involves asking yourself the right questions before deciding how much you are willing to spend.
Be sure to pay attention to how much you are buying compared to how much you drink on a daily basis and then decide if the price is worth it.
If you can't decide, see if you can get a sample size and test it out before you invest in a larger quantity.
Flavor
Flavor is essential to a great cup of Vietnamese coffee, but each Viet coffee lover has their own tasting preferences.
Whether you like the classic, bold taste of pure robusta coffee or you enjoy the sweet taste of vanilla-infused coffee beans, it's important to find the flavor that suits your taste.
The Best Choice
While each brand on the top 8 Vietnamese Coffee Brands list is an excellent choice, Trung Nguyen is in the #1 spot for a reason.
Arguably the most popular Vietnamese coffee brand in the world, Trung Nguyen is a seasoned brand that has perfected its coffee over the years.
Strong, bold, and smooth, you can't ask for much better. With a perfectly-balanced taste and an even amount of caffeine, you get the best of both worlds.
Not your style? That's okay. You have 7 other excellent options!
Whatever you choose, Vietnamese coffee is a must-try. The intense flavor of the robusta bean has traveled around the world and continues to be discovered by coffee connoisseurs everywhere. Will you be next in line?