Our website is reader-supported. If you buy through the links in this post, we may earn a commission.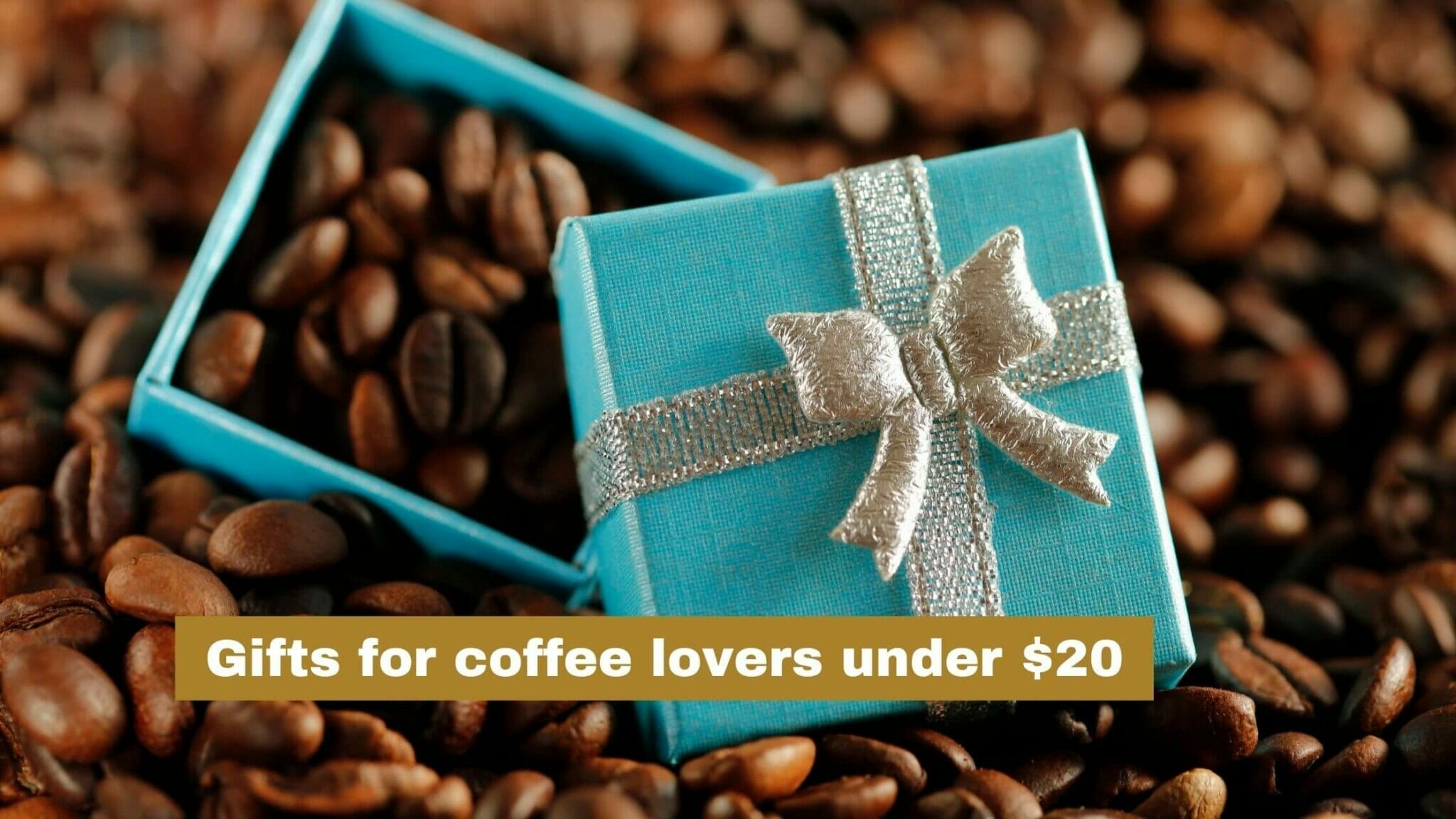 It isn't difficult to search for and find a long list of gifts for coffee lovers. Do a quick search, and you'll find gifts from coffee makers to coffee mugs and everything in between.
So, why do you need a list? Sometimes, having so many options makes it a grueling process to pick the perfect gift, especially if you're indecisive and always second-guessing yourself.
Believe it or not, setting a price limit still won't shorten the list enough! If you want to find the perfect gifts for coffee lovers under $20 that won't disappoint, keep reading.
What Pairs Well With Coffee as a Gift?
You can't fail when you get a coffee lover their favorite coffee as a gift, but if you want to make the gift a little more creative, you need to know what pairs well with coffee.
There are many options under $20 that will pair perfectly with coffee! You can use some of them at home and others on the go, and they are great pairing gifts for coffee.
Coffee on the go
Every coffee lover needs is a dependable travel mug because sometimes there isn't any time to have it at home. A travel mug is a perfect gift to pair with coffee.
Travel mugs are convenient ways to bring your home-brewed coffee wherever you go, made just as you like it. The best travel mugs keep your coffee warm for hours, so it tastes like freshly brewed coffee with every sip.
An excellent option for a travel mug is the Contigo Snap seal Insulated Travel Mug.
Features include:
Non-slip grip
Different sizes and colors
Spill-proof
Insulated
You can get all of these features for under $20.
Tasty Addition
Some people drink their coffee black, but others love to add extra flavors to their coffee. Some people add only cream and sugar, but others enjoy adding a variety of flavors, like vanilla, chocolate, caramel, etc.
Torani Vanilla Syrup is a delicious gift option for a coffee lover that likes to spruce up their coffee beyond the usual cream and sugar.
If you're not fond of vanilla, no worries! Torani has so many flavor options that you will have no problem finding one that is a suitable fit for a gift. They also have sugar-free options for coffee lovers that can't have sugar.
The Fresher The Better
There is nothing better than a fresh cup of coffee, just as there is nothing worse than a stale cup of coffee. Coffee beans and ground coffee can become stale after a little while of not being properly stored.
That problem can be fixed with coffee canisters. Coffee canisters do a fantastic job of keeping coffee fresh. Pair a coffee canister with your coffee lover's favorite coffee and your gift will not be forgotten.
The Satur Coffee Canister is a quality gift choice for under $20.
Features Include:
Measuring spoon
Day and month date dial
C02 valve
Vacuum lid
Quirky Coffee Gifts
Who doesn't have at least one quirky friend?
Picking out quirky gifts is amusing, but the options can still be overwhelming. Check out these quirky gifts to see which one catches your attention.
A Latte Latte
Does the quirky coffee lover in your life enjoy fancy lattes or cappuccinos?
Check out this quirky latte/cappuccino art mug. It is not only quirky but unique. You can make latte art to match the latte in its little hands. Gift it and watch the coffee lover in your life get a kick out of it.
Don't Knock The Socks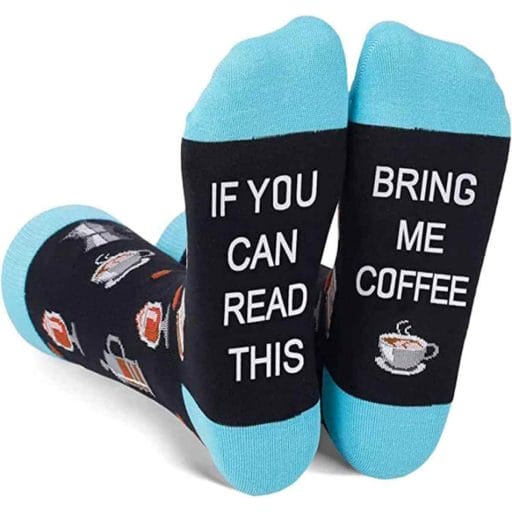 Socks may seem like a cop-out gift, but for your quirky friend, they're perfect. Just like coffee, socks keep you warm.
These funny coffee socks are a perfect way for a coffee lover to remind everybody they are ready for their next cup. They come in many colors, and you can find them for men and women.
It's a fun way to stay warm and have a good laugh.
Quirky Coasters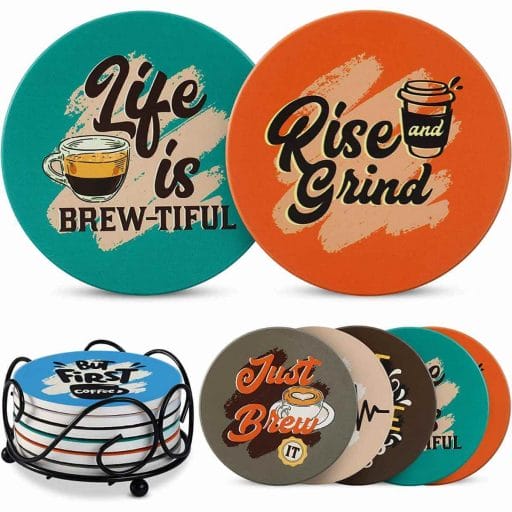 Coffee lovers enjoy good coffee quotes, especially when they're funny. These quirky coffee coasters will bring a smile to any quirky coffee lover's face. Who doesn't enjoy a good coffee pun?
Coffee coasters don't have to be boring. If coffee makes you smile, why not let the coaster it sits on do the same?
Coffee Accessories Gifts
There are many ways to make a cup of coffee. Whether you use a coffee machine, a french press, or a pour-over, it can be helpful to have the right accessories.
Make a coffee lover's life easier with these particularly useful coffee accessories that serve as fantastic gifts.
Milk Frother
You can't make a noteworthy latte without the right amount of froth – and getting that isn't always easy. Instead of spending tons of money on a fancy machine that froths milk, get a handheld frother for under $20.
Gift this Zulay milk frother to your coffee lover so they can enjoy a gourmet latte at home without the complication of figuring out how a frothing machine works and then having to clean it.
Mug Warmer
Anybody that loves coffee will enjoy this gift. How many times have you or somebody you know had to warm up a cup of coffee multiple times throughout the day because you got busy and didn't have time to drink it before it got cold?
A mug warmer keeps your cup of coffee warm until you can get back to it, which cuts out the routine of having to microwave it over and over.
Features Include:
Auto-on/off – triggered by gravity sensor
Works with metal, glass, and ceramic
Coffee Spoon/Holder
Coffee spoons with holders are cute and useful gifts for coffee lovers. These coffee spoons and holders come with witty sayings and are convenient for everyday coffee mixing.
The holders are a perfect settling place for the spoon and can be used in place of a napkin. It is a much better way to prevent dripage from the spoon.
Mug Umbrellas
Mug Umbrellas are another way to keep your coffee warm while you are not sipping on it, but have an added benefit. It seals your open mug and keeps the heat in while also keeping particles from covering the surface of your coffee. It is an adorable and nifty gift idea for a coffee lover!
Coffee Bar Organizer
Having everything in one place makes things much simpler. A coffee bar organizer is a gift any coffee lover will appreciate more than you think because they need it more than they know!
A coffee bar organizer is an accessory for your coffee accessories. You can store coffee pods, coffee bags, filters, canisters, sugar, coffee syrup, and so much more!
You can find small, medium, and large coffee bar organizers for under $20.
More Inexpensive Gifts for Coffee Lovers
Don't go broke buying the perfect gift for a coffee lover. You can find so many inexpensive gift options for coffee lovers that are neat, functional, and good quality.
Let's talk about some gift options that meet those characteristics, but remain under $20
Single Serve Coffee Maker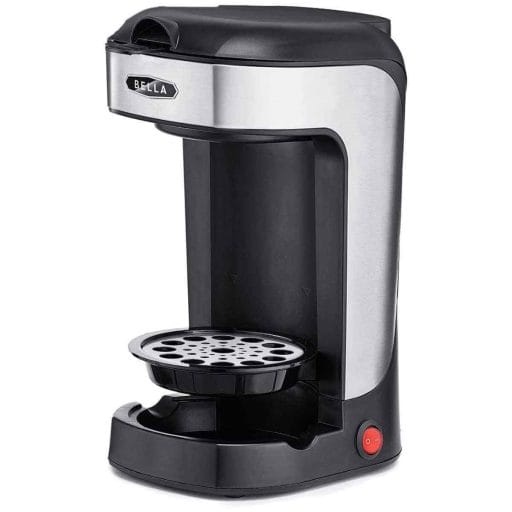 As of 2020, close to 30 percent of coffee drinkers used a single-cup brewer daily. It may now be over 30 percent.
Single-serve coffee makers are quick, easy, and convenient. Years ago, you probably couldn't find one close to the $20 mark, but you can now.
That's right. You can gift a single-serve coffee maker to the coffee lover you're shopping for under $20. The Bella One-Scoop/One-cup coffee maker fits the bill for an inexpensive gift that will win over the person receiving it.
Features include:
Built-in filter
Adjustable drip tray
Easy design with simple on/off button
French Press
The French Press is not as popular as a single-serve coffee maker, but it should not be overlooked as an appreciable gift. It brews an excellent cup of coffee and does a great job of bringing out the natural and bold flavors of the coffee.
The Utopia Kitchen French Press is a great choice for a gift.
Features Include:
Includes measuring spoon
Heat-resistant
Easy brewing with built-in filter
Easy to clean
Coffee Bean Grinder
Many coffee lovers prefer buying whole beans and grinding them at home. They do that because they want the freshest cup of coffee they can get.
It hasn't always been easy to grind your coffee beans, but it is now! This simple Hamilton Beach electric coffee grinder produces freshly ground coffee in minutes.
Features Include
Stainless Steel Blades
Dishwasher-safe grinding bowl
Simple button for grinding beans
Hidden cord storage compartment
Chocolate-Covered Espresso Beans
These delicious little gems combine two of the most sought-after tasty things in the world: chocolate and coffee. For the coffee lover that obsesses over both of those things, this gift will have their mouth-watering.
These decadent gourmet, dark chocolate espresso beans combine the sweet taste of chocolate and the bitter taste of espresso beans to create a combination that will feed your sweet tooth and give you a caffeine boost all at once.
Cold Brew Coffee Maker
Cold brew coffee is on the rise in popularity in the United States. More and more coffee lovers are realizing how much they enjoy a cold brew. Therefore, you need a gift option for those iced coffee lovers.
The Tritan Cold Brew Coffee Maker is a great pick. It is simple to use and easy to store.
Features Include:
Shatterproof glass
Spill-proof lid
Stainless steel filter
BPA free
Sugar and Cream Set
Do you know a coffee lover that enjoys company? Help them show off by gifting them a cute sugar and cream set to use while conversing with friends and family.
This porcelain sugar and cream set is simple, which makes it easy to fit anybody's personality.
Choosing the Right Coffee Gift Under $20
To choose the right gift, you have to know the personality of the person you are buying for.
For example, a person that has a serious demeanor probably isn't going to appreciate silly coasters. Instead, that person may enjoy the French Press or the sugar and cream set.
Another thing to think about is what they already have. If you don't know, try to ask somebody that lives with them or take a subtle peak when you visit them next.
Ask yourself:
Could they use some extra accessories?
Would a coffee warmer be useful to them?
Do they keep their coffee beans fresh in a coffee canister?
The most important thing to remember when buying a gift is that everybody has preferences representative of who they are.
Many of the items in this article are versatile and would make almost any coffee lover happy. None of them will disappoint you!
Take a second look through the article, find what catches your attention the most, and go for it!